As mentioned in a previous post, the Maricopa Association of Governments (MAG) has begun its next long-range, multimodal transportation study for Central Phoenix (CPHX). One of the criticisms that came out of the initial focus groups was the definition of Central Phoenix as stretching between from Loop 101 to the west, north and east, and Loop 202 and the Gila River Indian Community to the south. Several participants felt that this was too vast of an area to look at all at once.
It turns out that the CPHX team had already acknowledged and planned for this. Starting next week, the study team is hosting a series of seven "geographically based dialogues" throughout its vast study area. These dialogues will take a closer look at regional connectivity, and begin to identify issues and opportunities for a future multimodal transportation framework in each specific area.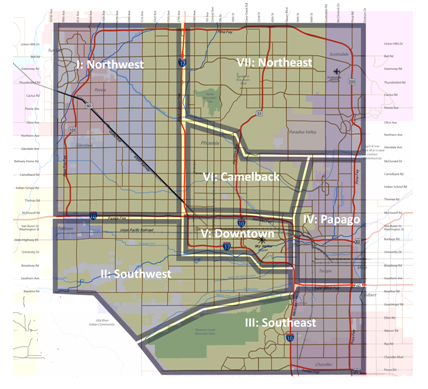 The two dialogues session that may be of most interest to DPJ readers are:
V. Downtown: August 16, 9 a.m.
Maricopa Association of Governments, Saguaro Room
302 N. 1st Ave., Phoenix, AZ (map)
Served by METRO light rail and bus routes via Central Station
Register by clicking HERE.
VI. Camelback: August 16, 1 p.m.
Saguaro Library, Multipurpose Room
2808 N. 46th St., Phoenix, AZ (map)
Served by Bus Route 29
Register by clicking HERE.
While pre-registration is not necessary, it is encouraged, as it speeds check-in at the event. Registrations are requested on or before August 9, 2010.
---