In certain corners, uttering chef Nobuo Fukuda's name is akin to spontaneous communal worship. Still clearly at the height of his craft, Fukuda has constructed a permanent residence for himself among the nation's greatest culinary talents by mere breadth of skill. Eternally absent of packaged publicity, Fukuda operates in a world of supreme admiration based entirely on sincerity.
Effortlessly one of the most lauded local chefs in town (Food & Wine's "Best New Chefs," 2003; James Beard Foundation's "Best Chef Southwest," 2007), the most recent post Fukuda helmed — the one that truly erected himself into the culinary stratosphere — was kitchen headliner at the now defunct, once idolized Scottsdale eatery Sea Saw. Closing unexpectedly in June of last year, the shuttering of Fukuda's Japanese-inspired Sea Saw reverberated coast to coast. Appointed one of the best restaurants in the Phoenix area at the time by not only the local press, but also the national media, Sea Saw consistently etched itself onto bucket lists of diners based nearby and beyond.
Beyond simply losing one of the best restaurants in the Valley, however, the story's most ambiguous chord was Fukuda's future in Phoenix. Of course he would cook again professionally, but would he remain here? Among that elusive guild of unquestionably top-tier chefs, when such a star becomes a free agent, temptation to cook elsewhere in, say, more mature dining markets like New York City or San Francisco, gossip and speculation is unavoidable. Talent retention is always a concern in a transient-heavy city like Phoenix, so thankfully Fukuda killed such chatter with his announced intentions to remain a local, instigating plans for a new restaurant somewhere in Central Phoenix. Sea Saw's demise proved only a temporary sting.
As the dust settled, Scottsdale's public loss quickly became Downtown Phoenix's humble gain. Opting for a more central, urban location quickly became a desire for Fukuda. In Heritage Square, inside the freshly rehabbed turn-of-the-century Teeter House, he seemed to find such an ideal address.
Dark near-mahogany flooring and grainy woodwork maintained throughout; trimmed with diluted grays, browns, greens and blues, Nobuo at Teeter House radiates thoughtful century-old preservation, polished smartly for contemporary eating and mild Japanese flair. The space is quiet regardless of decibels, equally understated and modern without the energy of pretension. An eventual wrap-around outdoor dining area will soon be complete, nearly doubling the restaurant's seating capacity.
In terms of edible indulgences at Nobuo at Teeter House, expect an evolving Japanese-anchored, western-nudged menu of generally small, sharable plates. Fundamentally inspired by a Japanese brand of neighborhood, working-class taverns — izakaya — also expect agreeably lower price points and a more relaxed posture of place.
On the current lunch menu, focal points include the ebi salad ($9) — grilled shrimp skewered atop a hill of cold rice noodles and cucumber, pointed with purple basil and mint; the marinated short ribs ($8), sliced and squeezed inside hefty steamed buns and layered with subtle housemade pickles; the ever-so-hearty okonomiyaki ($8) — think savory Japanese flapjack molded with shrimp and pork, lying underneath weaves of Japanese mayonnaise and a dense, tangy and sweet okonomiyaki sauce, finally garnished with bonito and shaved seaweed; and then, wholeheartedly a favorite: the panko-plastered whole-fried soft shell crab sandwich ($10), served defiantly between slices of homemade focaccia, among cucumbers and a light brush of aioli.
For libations, an eventual roster of cocktails, wine, beer, as well as a dedicated selection of teas — for sipping or pairing — are planned to be phased in as business matures in the coming weeks and months.
In an effort to iron out expected newbie restaurant kinks, in anticipation of full-blown dinner service that starts tonight at 5:30 p.m., Nobuo softly opened in July only serving lunch six days a week, from 11 a.m. to 4 p.m. An eventual feature of the evening meal service will bring back one of Fukuda's Sea Saw signatures: his private omakase (chef's choice) dining experience, by reservation only, to be served in the bar area.
Longtime fans and those yet to discover the magic of Fukuda are fortunate to be able to experience the acclaimed chef's vision and skill once again, in our own back yard. We locals shouldn't take this lightly, as such great things rarely happen more than once.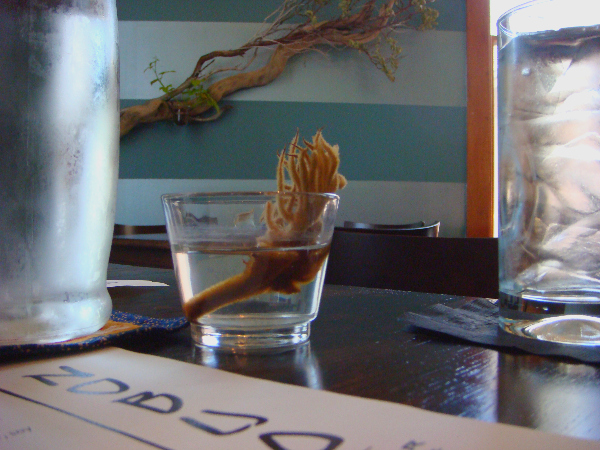 For more information and full menus, visit nobuofukuda.com. Nobuo at Teeter House is located at 622 E. Adams St. in Heritage Square (light rail stations at 3rd Street and Washington/Jefferson streets) — 602.254.0600.
---