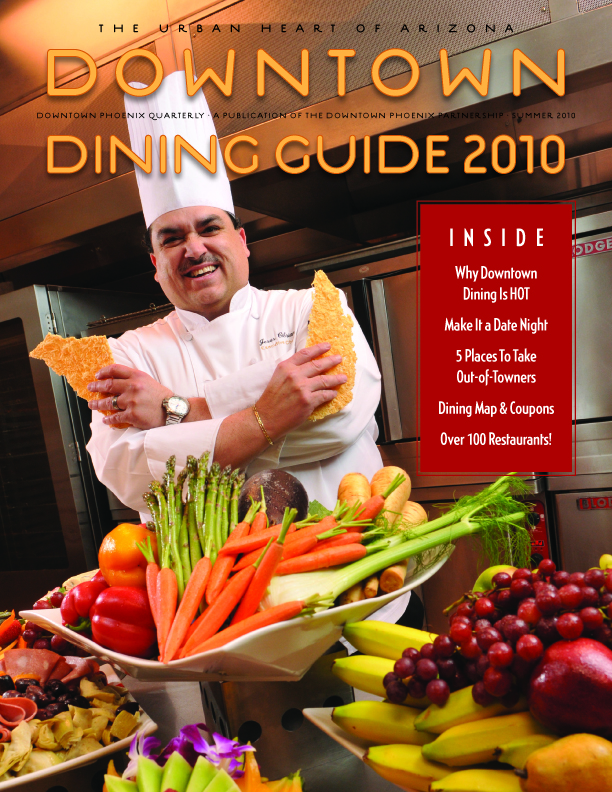 For those not in the know and visitors alike, the Downtown Phoenix Partnership is releasing "Downtown Dining Guide 2010," highlighting the "hot" dining scene across the Partnership's 90-square-block urban core.
Available Tuesday, the guide features more than 100 restaurants, with 15 new places to explore within the urban core's limits. The guide, which will be sent to employees at many Downtown Phoenix businesses, aims to increase awareness of the hot spots and hidden gems sprinkled throughout the area.
You'll start seeing these guides pop up around your favorite Downtown spots in the coming months. Heck, you may even receive one in the mail if you live near the Partnership's designated area.
The Partnership is apparently looking to cook up some buzz on Phoenix's culinary scene, which has had just as many triumphs as failures in recent years due to the economy and other factors. Nonetheless, it paints the picture of a foodie scene bursting with possibilities.
It features "the best places to grab a quick bite, bring a date or take the family." It even includes brand-spankin'-new spots, like Nobuo at Teeter House.
Inside the guide, there's a handy pull-out restaurant listing with a map to help you (and your nose) find your restaurant destination — how convenient! In case you get lost, friendly Downtown Ambassadors can point you in the direction of restaurants and print out coupons when available.
Yet, strangely, despite noting in the guide that it covers the area from 7th Street to 3rd Avenue and Fillmore to Jackson streets, the pull-out map spans from 7th to 7th, all the way up to McKinley, leaving the fringes of the map looking noticeably empty. Is the map doing a disservice to many restaurants within the map's confines?
Likewise, a feature story on the Urban Grocery & Wine Bar, a block outside of this radius on Pierce Street, is one of the main sections of the guide. But the cluster of restaurants on 1st and Pierce streets do not even receive a spot on the map, let alone a mention in the guide.
Important to note: The Partnership says Downtown Phoenix has continued to grow in business and city sales tax revenue over the past couple years, unlike much of the state. There was an increase of 6.2% in sales tax from 2008 to 2009, and the guide claims that by the end of the 2010, 38 new restaurants will have opened in the past two years.
DPJ staffer Monica Arevalo also contributed to this post.
---