Eleven Downtown Phoenix restaurants are participating in the second annual Downtown Dine Around this Saturday.
While they're serving up the bites and sips, we're giving up the scoop.
Dine Around…what? Think of it as a progressive meal throughout Downtown with budget-friendly samples of favorite dishes prepared just for you.
What kind of yumminess is in store? Mouth-watering bites like baby back ribs served with bourbon BBQ sauce and Chipotle Mac n' Cheese from Tom's Tavern & 1929 Grill; roasted tomato goat cheese bruschetta from the Phoenix Public Market; signature egg rolls and Puff & Huff pork wontons from Sing High Chop Suey House; or the delish Shephard's Pie and Fish 'N Chips from Seamus McCaffrey's, to name but a few.
When is this delectable Dine Around? Saturday, December 3, from 11 a.m. to 4 p.m.
Where do I start? At any of the participating restaurants. Pick a spot, choose from the special Dine Around menu and have at it.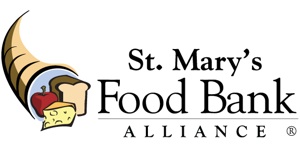 How does this benefit St. Mary's Food Bank? Attendees are kindly asked to bring non-perishable food items for St. Mary's Food Bank. Donations can be dropped off at any of the participating restaurants.
How much does it cost? Menu items range from $2 to $3.
Which restaurants are participating?
•    1130 The Restaurant
•    District American Kitchen and Wine Bar
•    Ghost Lounge
•    Phoenix Public Market
•    Province
•    Sam's Cafe
•    Seamus McCaffrey's
•    Sing High Chop Suey House
•    Tilted Kilt Pub & Eatery
•    Tom's Tavern & 1929 Grill
•    Z Pizza
What's on the menu(s)? You can download a menu from DowntownPhoenix.com/dinearound. And be sure to RSVP (to help calculate staffing needs).
Any drinks on special? Yep, look closer at that menu. Craft beers, mojitos and margaritas abound.
How do I get there?  Ride the Light Rail to and from Downtown Phoenix for only $3.50. Each Dine Around restaurant is in walking distance of a Light Rail Station. Biking and strolling are also encouraged.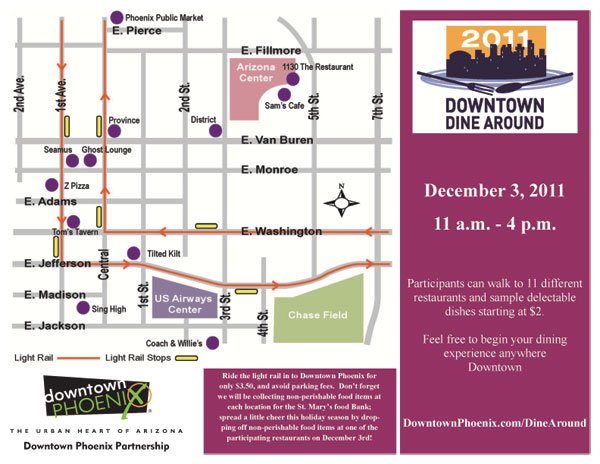 ---