If you don't want to fight for a spot at First Friday but still feel like seeing amazing art and hear local music, well I've got one place for you. SuTRA Midtown Yoga is hosting a night full of beautiful photography by Shawn Anderson and acoustic sets by local artists.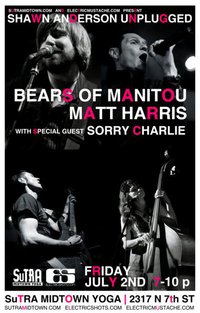 Shawn Anderson Unplugged will start at 7 p.m. in the Living Room Café with music by Bears of Manitou, Matt Harris and Sorry Charlie.
If you haven't heard of Shawn Anderson's music blog, Electric Mustache, you need to open another tab and start discovering what you've been missing. His blog will open your eyes to mind-blowing music, open and trustworthy CD reviews and local and national band updates.
After Anderson started Electric Mustache, he started his website, Electric Shots, displaying his photography that makes you feel as if you were there the night of the show. He captures musicians at their purest on stage.
His photography will be displayed on the gallery walls on Friday and will stay up all month long.
On Friday, watch as his photos come to life, as Bears of Manitou and Matt Harris, who have been subjects of Anderson's lens, also take the stage.
Bears of Manitou have quickly sprouted up in the Phoenix music scene. They opened up for Rocky Votolato in March and everyone was in awe that the duo were playing their first show and nailing it.
Gabe Williams, Laney Coletti and Brian Champ make up Bears of Manitou. They are a folk-indie group that has Williams on guitar, piano or ukulele; Coletti changing up her instruments every other song, from bongos to cello to maracas; and Champ on drums as the newest addition to the group.
Harris and Sorry Charlie will grace the stage with their soft, rich sound, adding to the soundtrack of the night.
Join everyone on First Friday at SuTRA Midtown Yoga, where they will supply the essentials: art, music and completely free (and delicious!) sangria.
SuTRA Midtown Yoga is located at 2317 N. 7th St. in Coronado — 602.253.9525
---