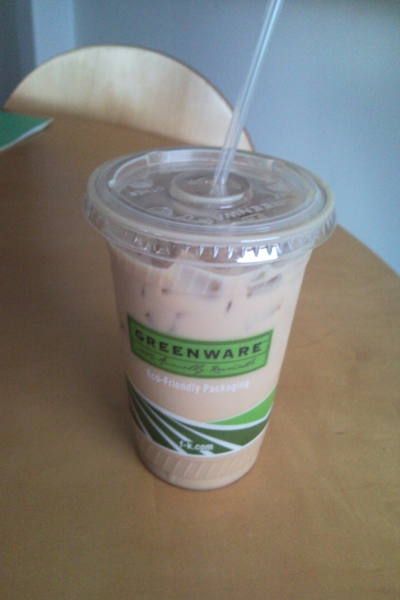 Just another summer on the middle rack of the oven and I am continuing the search for places and sips and grub to at cool off my taste buds. I did take a moderate detour in my search when I heard about Giant Coffee, finally alive and buzzing. So, I slipped on my high-water jeans and, of course, ran barefoot up the street.
Upon locating Giant Coffee, tucked somewhat awkwardly behind Thai Hut and the entrance of Cancer Survivors Park, I was questioning what I would order that would replace all the fluids I sweated out getting there. Even though it is a coffee place, I was determined to order an "iced" anything. So, I slipped through the door into the cozy space and immediately felt at home. With Bunky Boutique jazzing up the north corner of the building, this place reeks of style. Plus, it never hurts that a friendly neighbor is behind the counter waiting to sling some righteous java.
It was suggested that I try the iced Honey Vanilla Latte. I couldn't argue with that. Despite its unmanly-sounding title, it described sweetness, full flavor and icy goodness — all things that I was craving.
Once my latte was carefully constructed, I was unable to restrain myself from destroying it. It embodied everything I like about coffee drinks. Each sip was cool and delicious. The vanilla coursed through my veins. This drink was seemingly wrapped in sugary honey. This is the way to cool off in Downtown Phoenix.
Should you find yourself needing to check out the hype of Giant Coffee, then make sure you check out the Honey Vanilla Latte. It is seriously a welcomed assault on the taste buds. If you are lucky, you might even have my neighbor make it for you. Don't know who she is? She is the nice one that makes stupendous lattes.
Giant Coffee is located at 1437 N. 1st St. in Evans Churchill (light rail station at Central/McDowell).
---