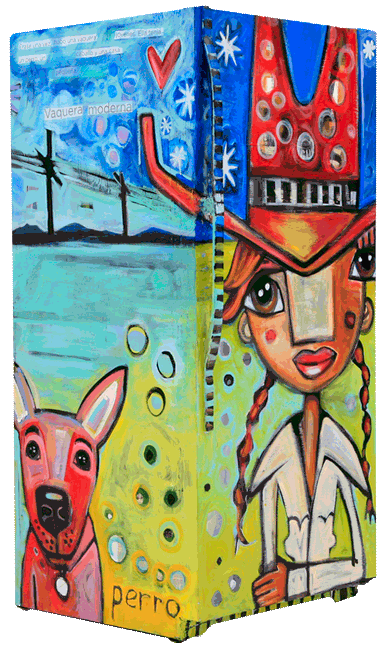 Splurging on a new refrigerator when your old one is working just fine may seem like a waste of money, but it could actually save you $100 in additional energy costs per year, along with being better for the environment, according to the Salt River Project website.
To raise awareness about the importance of recycling refrigerators and other household appliances, After Hours Gallery and SRP have teamed up to create the Fridge-A-Thon art exhibit, opening at tonight's First Friday.
The month-long show in the eco-conscious building will display more than 15 refrigerators that have been transformed into artwork by local artists Zarco, Mary Rabago, Kyle Jorde, Sean McLaughlin, El Moises, Linda Suffidy and others. Eco-experts will be on hand at the gallery to talk about the positive impacts of recycling appliances. These benefits include keeping reusable items out of landfills and preventing up to 10 tons of carbon dioxide from entering the atmosphere.
SRP customers who turn in gently used, functioning refrigerators receive $30 and free pick-up. About 95% of each refrigerator is recyclable, preventing the release of toxic chemicals into the environment. In measurable carbon dioxide emissions, getting rid of an outdated refrigerator is equivalent to taking two cars off the road.
The show will be open to the public from 7 to 10 p.m. tonight and 10 a.m. to 5 p.m. Monday through Friday, through June 30. After Hours Gallery is located at 116 W. McDowell Rd. (light rail station at Central/McDowell) in Willo — 602.710.2398.

---