To celebrate its 35th year of revitalizing neighborhoods by providing programs and services that establish and support affordable home ownership for hard-working families, local nonprofit Neighborhood Housing Services of Phoenix has recently overseen the construction of 28 new houses — gingerbread ones, that is.
On December 3, the Home Sweet Home exhibit debuted at the After Hours Gallery in Phoenix. The public was invited to view and bid on gingerbread houses created by community leaders, City of Phoenix staff, TV and radio personalities, pastry chefs, architects, restaurateurs, elementary school children and other locals, with all proceeds benefiting NHS Phoenix.
Although bidding is closed, the free exhibit is still open weekdays from 10 a.m. to 5 p.m., and this Third Friday, December 17, from 6 to 9 p.m.
Check out just a sample of the exhibit below: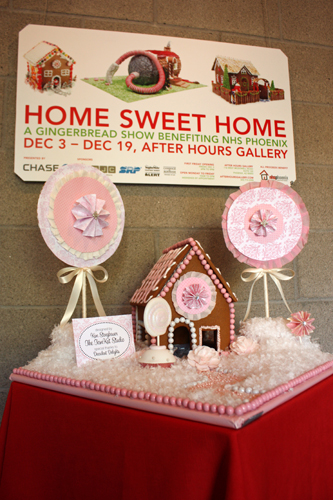 Upon entering the gallery, the first gingerbread house to awe is visitors is the one created by Kim Stoegbauer, the founder and owner of The TomKat Studio, a blog and shop focused on creative parties and home decorating. Pink and white icing, candy and paper decorations complete this delightful house.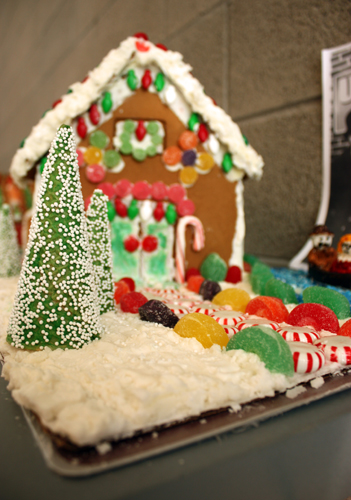 From 1954 to 1989, Pat McMahon played Gerald on The Wallace and Ladmo Show, which holds the record for the longest-running children's television program. His wife, Duffy, founded Innovative Therapies in 2000, an organization that develops programs for people seeking to overcome psychological problems such as stress, anxiety and anger. But, somehow, the two found time to build a gingerbread house in honor of The Wallace and Ladmo Show, and with the peppermint-paved walkway and the M&M-covered rooftop, the McMahons have proven that in addition to their other talents and successes, they can make one sweet gingerbread house.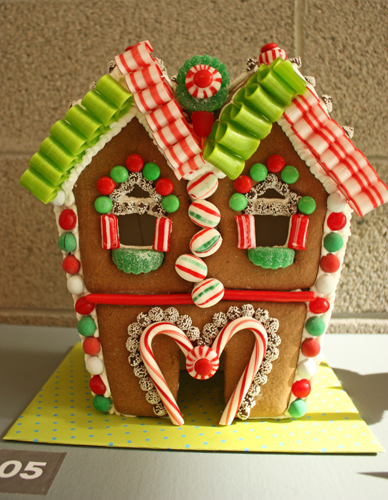 It's not an edible model of a television or a replica of the Channel 12 News set, but Lin Sue Cooney's traditional-style gingerbread house adorned with ribbon candy, nonpareils, candy canes and mints of various shapes and sizes is still one of the most charming houses in the show.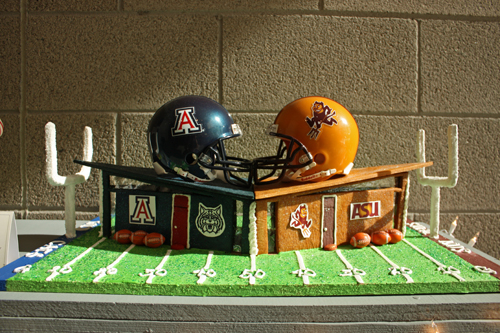 "House Divided" was created by pastry chef Carol Konyha, who built a total of eight houses for the show. It doesn't have snow made of white frosting or roof tiles made of peppermints, and the only Christmas color is the green of the football field, but this nontraditional gingerbread house can be enjoyed year-round by Arizonans of all ages.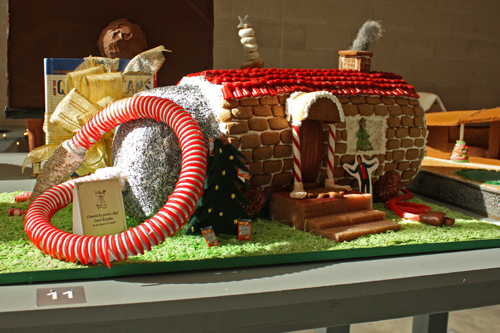 Konyha continues to amaze with her licorice-coated vacuum gingerbread house, designed for Linda Cobb, also known as "the Queen of Clean."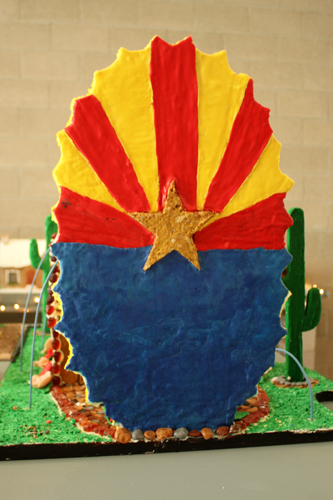 The students of an art program at Las Artes School designed this house, which is one of the largest ones in the show. This side of the house displays the Arizona state flag and a desert landscape, but the other side of the flag delves even more into Arizona's culture with a design of the Virgin of Guadalupe. Also, on the other side is a house made of gingerbread and crackers, surrounded by frosting-coated flowers and butterflies.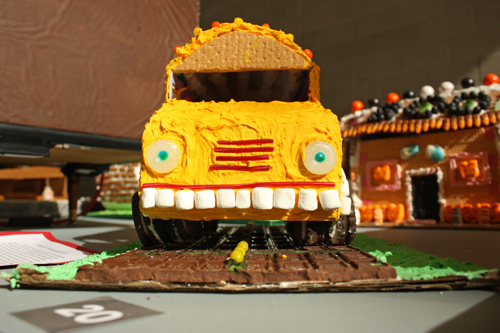 Students in Shaw Elementary School's art club built this school bus by starting with a shoebox and covering it in graham crackers and frosting. Then they decorated the bus with different types of candy such as marshmallows for the bumper and Life Savers for the lights.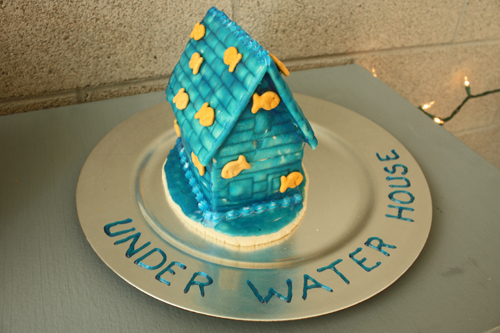 The "Under Water House," sculpted with cookie dough and gingerbread, and topped with goldfish crackers, was designed by Alwun House founder Dana Johnson. The Alwun House is a historic Garfield house that displays artwork from artists of various cultures and disciplines. The house attempts to engage artists and the community to enrich the cultural atmosphere of Phoenix.
Kim Dorney, the Housing Director for the City of Phoenix, used gingerbread, nonpareils, Reese's Peanut Butter Cups, peppermints, candy canes, frosted cereal and other tasty treats to create this festive, classic-style gingerbread house.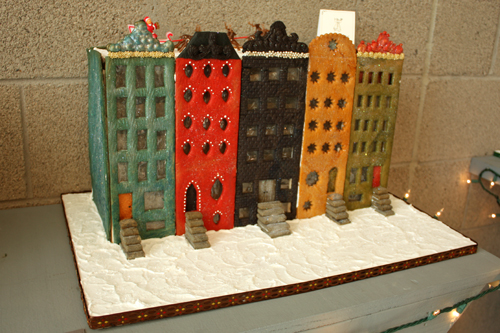 Another of Konyha's eight houses, this gingerbread house (well, houses, technically) represents Amsterdam Row. The snow on the ground and Santa and his reindeer on the roof give it a special holiday touch.
Take one guess as to who built this house. Yep, Konyha again. With its candy cane gate and sliced-almond shingles, this glittery gingerbread house looks so cozy and welcoming, it's hard not to wish you were small enough to fit inside of it.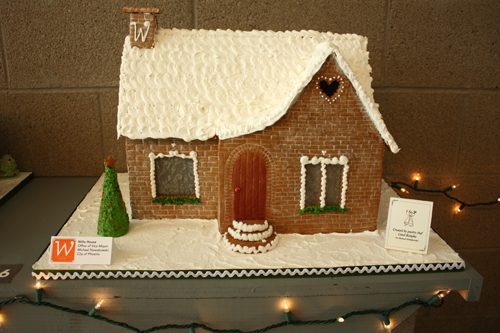 Another Konyha creation, this Willo house was designed for City of Phoenix Vice Mayor Michael Nowakowski.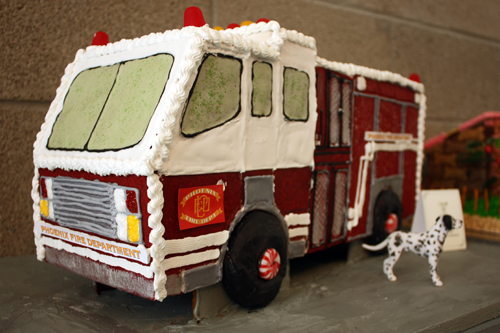 Even though they have a serious and sometimes dangerous job, the Phoenix Fire Department obviously knows how to have fun, too. They designed a gingerbread firetruck for the exhibit, decorating the vehicle with frosting and candy.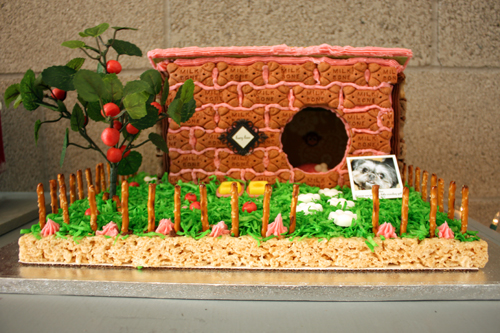 Headwerk founder Erik von Weber created this gingerbread house in honor of his dog, Lucy Lou, who recently passed away. The house is made of gingerbread, Milk-Bone dog biscuits and icing, and sits on a Rice Krispies Treat foundation with a pretzel picket fence. Inside of the house, he created a space with Lucy's favorite toys. Headwerk is a design company that offers unique solutions for communications projects related to brand strategy, identity, advertising, packaging, environment and the Web. He founded the company in 2001.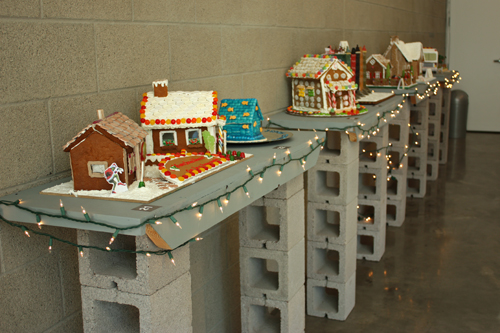 After Hours Gallery is located at 116 W. McDowell Rd. in Willo (light rail at McDowell station) — 602.710.2398
---