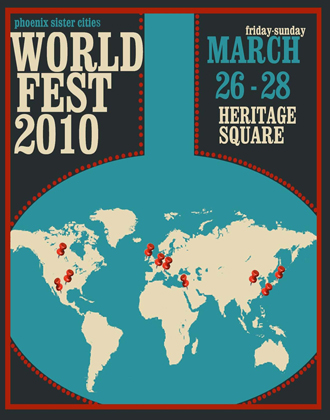 You used to have to travel the world to experience all of its culture. But, if you are in Downtown Phoenix this weekend, that is simply not the case. WorldFEST, a three-day celebration of global eats, drinks, entertainment and culture, is coming to Heritage Square Friday through Sunday, March 26-28.
Van Buren and 6th streets is the cultural epicenter this weekend, and best of all, most of the events are free for the whole family. The event, put on by Phoenix Sister Cities, aims to educate Phoenicians about our friends around the world. Phoenix's nine sister cities include Catania, Italy; Ennis, Ireland; Hermosillo, Mexico; Taipei, Taiwan; Chengdu, China; Himeji, Japan; Calgary, Canada; Ramat-Gan, Israel; and Grenoble, France. A breakdown of the festivities follows.
Friday, March 26
WorldFEST opens with WorldLUNCH from 11 a.m. to 2 p.m. ($10 in advance by calling 602.534.3751, or $12 at the gate). Ten Phoenix restaurants will do their take on globe-spanning dishes in the comfort of a Phoenix spring afternoon. Happy hour follows from 4-10 p.m., including dozens of beers from all over the world and live music and entertainment.
Saturday, March 27
Kid's World begins at noon, where children 12 and younger will be given "passports" to visit each of Phoenix's sister cities. Activities galore, including rice writing, piñata hitting and camel riding, ensue. At 1 p.m., the WorldFEST parade launches, featuring the sweet, brassy sounds of Sandra Day O'Connor High School's 116-piece marching band.
All-day festivities include a cornhole challenge to crown Phoenix's best "bagger" and, of course, samplings of all those tasty beers as well. The celebration goes until 10 p.m.
Sunday, March 28
Sunday is Asian-Pacific day, with gates opening at noon. Asian culture will be honored all day long, with more entertainment, more beer and lots more food throughout the afternoon. At 4 p.m., raffle prize (an all-inclusive U.S. Airways trip anywhere in the world; a two-night stay at the Phoenician, including dinner at Il Terrazzo and a round of golf; and use of a luxury suite at a Diamondbacks game) winners will be announced. The cornhole champ will be crowned, and an award for the best sister city booth will be handed out as well.
In the Know: WorldFEST
Friday-Sunday, March 26-28
Heritage Square (115 N. 6th St.) — light rail station at 3rd St & Washington/Jefferson
WorldLUNCH $10-12, Saturday and Sunday events are FREE
---