From the Arizona Room is a weekly column examining the historic, reuse and infill structures in Downtown Phoenix. The inspiration for this column stems from the ever-expanding resources in Burton Barr Central Library's Arizona Room (located on the second floor). For further information on this and other historic structures in the area, visit the Arizona Room during normal library hours.
609 E. Adams St. in Heritage Square (light rail at 3rd Street and Washington/Jefferson stations)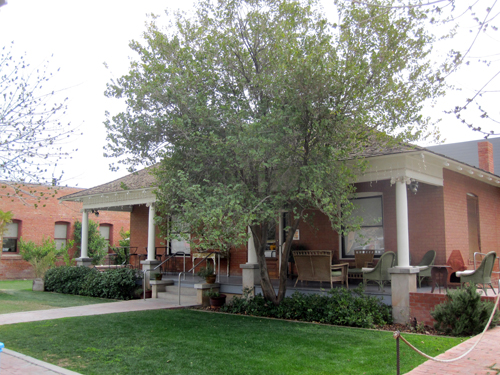 Historic Heritage Square offers visitors a glimpse into the original Phoenix town site. Eight of the residences (now all used for commercial purposes) stand in their original locations, but one building has only been there for 25 years. It's the Thomas House, a striking c.1909 Neo-Colonial Revival just west of the F.S. Baird Machine Shop, that is the new kid on the block.
The home arrived in Heritage Square in 1986 in fair condition. Architecturally, it was certainly worth sparing — with hints of Western Colonial style, it encompasses the flair of Neo-Colonial style with an airier feel, perfect for gatherings.
The original brick façade stands over a new poured concrete foundation. Other original traits include the hipped roof with exposed rafters and asphalt shingles. The double-hung wood windows kept the original screens following the move to the square.
The home was built as a residence for F.B. Thomas, a Toledo, OH, man who moved to Phoenix in 1895. The central entry with a recessed veranda porch are common characteristics of the architectural style. The porch features a tongue-and-groove ceiling that remains in fine shape.
Thomas served many positions during his life in Phoenix as a civil servant: he was appointed county recorder in 1904, then city recorder and police judge in 1905. He later became the city clerk in 1914.
Today, the building houses Bar Bianco, where hungry (and thirsty) patrons snack on artisan cheeses and sip wine while they wait for their tables to be available at next-door Pizzeria Bianco.
Source: City of Phoenix Historical/Architectural Survey of City-Owned Properties, August 1986
Is there a historic property in Downtown Phoenix you'd like to see in From the Arizona Room? Email me at si@downtownphoenixjournal.com with the address and a brief description.
---