From the Arizona Room is a weekly column examining the historic, reuse and infill structures in Downtown Phoenix. The inspiration for this column stems from the ever-expanding resources in Burton Barr Central Library's Arizona Room (located on the fourth floor). For further information on this and other historic structures in the area, visit the Arizona Room during normal library hours.
215 N. 7th St. in Garfield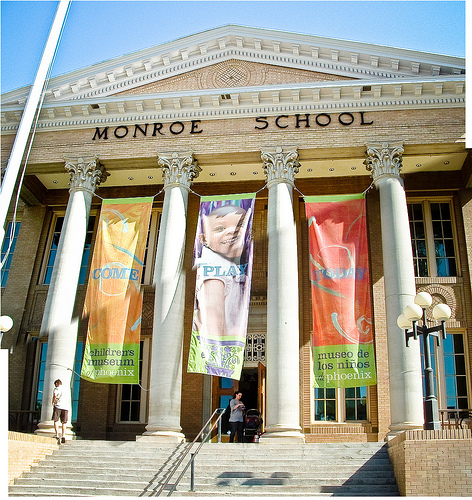 Seeing the colorful banners, neon lights and oodles of noodles at the Children's Museum of Phoenix, it may be hard to identify it as a historic building. But, like other buildings profiled in From the Arizona Room, its current use was not the building's original intent.
Though the building has housed the museum since the summer of 2008, it has been standing far longer. Originally the Monroe School, it is one of the largest Neoclassical Revival schools left in Phoenix. It was built in 1914 by Los Angeles designer Norman Marsh. At the time, it was billed the "most modern grade school in the United States." Even today, the original bones of the building are surprisingly modern for a building nearing the century mark.
Though major renovations — well over $10 million in all — went into the building prior to the museum's opening, the outer shell remains historically intact. The steel frame, clad in brick, rises two stories atop a raised basement. The signature columned façade, a central pedimented portico with Corinthian columns and projecting end pavilions, was spared. A fire in the 1970s brought severe damage to the original roof, but the original building remains otherwise. It has been listed on the National Register of Historic Places since 1977.
Sources: Phoenix Historic Building Survey by Charles Hall Page & Associates, Inc. Sept. 1979.; National Register of Historic Places

Is there a historic property in Downtown Phoenix you'd like to see in From the Arizona Room? Email me at si@downtownphoenixjournal.com with the address and a brief description.
---