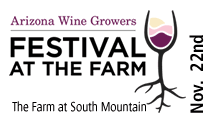 Arizona isn't typically known as a wine hotbed, but it's quietly gaining some respectable buzz about its homegrown grapes. In a move straight outta Napa Valley, Arizona Wine Growers is showcasing its finest vino in the first-ever Arizona Wine Growers Festival at the Farm at South Mountain on Sunday, November 22.
The farm's picturesque 12-acre pecan grove is the setting for tastings from nearly every winery in the state, discussions, walk-through exhibits, award presentations and live local music. Over 20 wineries in all will offer well over a hundred different wines to sample, paired with some delectable local eats. The Farm Kitchen and Santa Barbara Catering Company will offer a selection of picnic sandwiches and salads throughout the afternoon. Haven't tried Scottsdale's Su Vino Winery pinot noir yet? Or the soothing chardonnay from Kokopelli Winery in Chandler? Now is your chance!
It's no secret that we love wine here at DPJ (you've probably spotted our crew members at Postino Central or Cheuvront more than a few times), but we confess we're not really "experts," per se. So, it's a good thing the wine gurus at AJ's Fine Foods will be teaching us how to sip critically and responsibly. Best of all, the wine seminars during the afternoon will make us sound like wine pros when we take our friends out on the town.
As if all this isn't enough, there are fantastic items up for auction, including all kinds of wine swag and vacation packages. The Grower's Cup Awards dinner, held after the festival with separate ticket purchase ($125), will feature locally harvested, organic cuisine from the exquisite Quiessence restaurant at the Farm at South Mountain.
The festival takes place on Sunday, November 22 and runs from 1-5 p.m. Tickets are $65. The Grower's Cup Awards dinner follows. The Farm at South Mountain is located at 6106 S. 32nd St. — 602.276.6360.
---