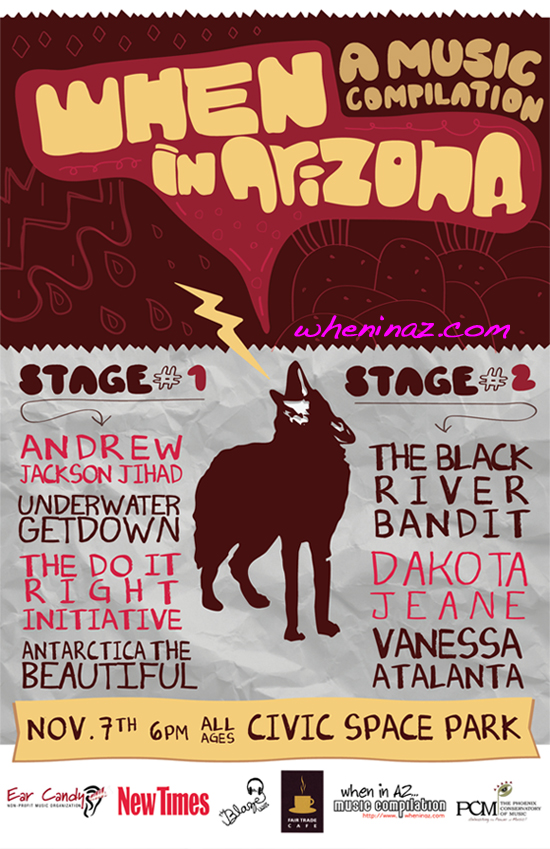 Having already conquered Modified Arts, the Rhythm Room, Yucca Tap Room and Hard Rock Café, it was only natural for the ongoing When in AZ concert series to grow bigger. Like, city park bigger.
This Saturday, November 7, the When in AZ crew returns with its biggest show yet, presenting seven acts on two stages at Civic Space Park. The seventh show in the series highlights even more artists that contributed to the compilation that was released in September. Over 50 tracks in all, it can be purchased via download card at the show.
The amphitheater stage will feature the more rockin' tunes of Andrew Jackson Jihad, Underwater Getdown, the Do It Upright Initiative and Antarctica the Beautiful.
The courtyard level (you know, where Fair Trade Café and Store are located) will provide the perfect backdrop for the mellow sounds of the Black River Bandit, Dakota Jeane and Vanessa Atalanta.
The free show begins at 6 p.m. Download cards for the compilation are available for $8. Proceeds benefit Ear Candy and Phoenix Conservatory of Music.
Civic Space Park is located at 424 N. Central Ave. (light rail station at Central/1st avenues and Van Buren)
---