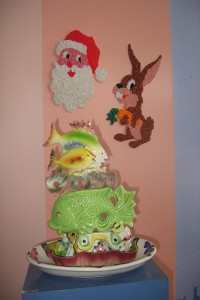 The Kooky Krafts Shop, at 1500 Grand Avenue, will officially open on First Friday, September 4. Specializing in queer, quirky, fun and fabulous one-of-a-kind handmade items by local artists and crafters, the shop is housed in a historic building on the corner of Grand and 15th Avenue, in the Lower Grand Avenue neighborhood and small business district.
Chenille and pipe cleaner wreaths and sundry items with vintage decorations by Beatrice Moore, colored cement and porcelain figurine sculptures by Tony Zahn, colorful paper tiki gods by Tom Cooper and wild felt and feathered hats by Abby Messmer are just a few of the quirky items that can be found at this one-of-a-kind shopping destination.
For more information, contact Beatrice Moore at 602.391.4016.
---