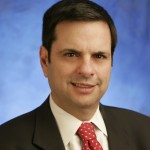 The Green Phoenix initiative continues to move forward at the city of Phoenix.  We are working to maintain our status as a leader in sustainability, with programs that have a real impact on our environment and the habits of our residents. I am proud to share with you some of our most recent recognition that the city has received, and give you an update with the results of our hard work to secure stimulus funding that will move my Green Phoenix vision forward.
Earlier this month, Mother Nature Network published an article highlighting water conservation titled, "Hydrating Phoenix: Quenching a city in the desert."  The article discusses how Phoenix, with a population of 3.5 million, has been able to use less water today than was used a decade ago, and less per capita than was used two decades ago.  To read the entire article, click here.
As you probably know, I've been traveling to Washington, DC, several times a month to best ensure that the city's federal stimulus requests are being heard.  To date, the city has secured more than $270 million, including more than $22 million for energy-related projects. In addition to funds received directly by the city, companies and organizations within the Phoenix area are benefiting from the stimulus as well.  Just last week, we announced that Ecotality, a Phoenix-based company, will receive $100 million for transportation electrification projects.  To read more, click here.
We are continuing to make progress that is setting the city of Phoenix apart as a leader in sustainability.
---