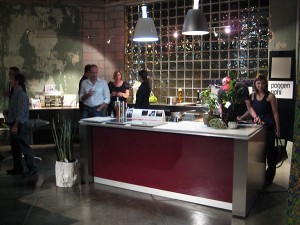 On the corner of Lincoln Street and Central Avenue in downtown Phoenix is a big warehouse for which there are even bigger plans.
"It's called The Anchor Manufacturing Building and it's got a really, really great rich history," said Steve Rosenstein, who co-owns the building with his wife Andi Rosenstein. The Anchor Building, built in 1928, was previously a Ford dealership, a city bus garage, and a Hensley & Company beer distributorship.
Currently, the building is used as a distribution center for R&R Surplus, a vintage clothing company. They reclaim vintage clothing and accessories from around the world, and add their own "twist" to them. The 1929 French ammunition bags, for example, have each been handcrafted with rhinestones. R&R Surplus also sells old favorites such as PF Flyers and Champion sweatshirts.
But this is only the beginning. "We've got every foot of the 15,000 square feet planned out," Rosenstein said.
The entire project is called The Duce, which Rosenstein hopes will come to life in November. It will include a restaurant with the bar from the original Black Orchid jazz club in Chicago, outdoor seating and live jazz music. There will also be a vinyl record store, a fresh produce market, a Schwinn vintage bicycle shop, and a coffee and cereal bar that opens up to the sidewalk for convenient to-go service to pedestrians. Rosenstein also said it will be a venue for events. In April, the building hosted the fourth annual Phoenix Contemporary Design Fair.
Rosenstein started a clothing company called Fitigues with Andi Rosenstein while he was living in Chicago. After a while, Rosenstein and his family decided to leave Chicago and head west for warm weather and sunny skies. They relocated to Phoenix and sold the business in 2006.
"We went from being really, really authentic city people to Phoenix suburban people," Rosenstein said. "So after the euphoria of those mountains, those hikes and that beautiful blue sky, it started to wear off. I started to miss the city a little bit. Then we discovered this place."
Rosenstein was sent a picture of The Anchor Building and ventured to downtown Phoenix to see it in person. "I didn't even know if downtown Phoenix really existed," Rosenstein said. "We started just kind of kicking around down here and I thought, "wow, there's actually some culture down here, some diversity.'"
Rosenstein hopes to do more than just create The Duce. "I want to really make a difference and really infuse some life and authenticity in downtown Phoenix," he said. "I want to make it the city that we're all starving for."
Rosenstein also hopes the project can bring inspiration to others. "I think it's going to be a catalyst for other creative city people to come down and say, 'we can take one of those warehouses and do something too.'"
Photo courtesy of kontaktmag.
---