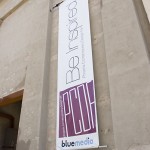 The Phoenix Contemporary Design Fair (PCDF) will return to downtown Phoenix April 24 to 25 for its fourth annual modern design showcase.
Held from 10am to 5pm at The Anchor Manufacturing Building at 525 S. Central Ave, PCDF is a two-day event organized by About Design, LLC. to showcase the designs of international, national and local companies to anyone interested in modern design.
"It's definitely a unique show," said Don Crossland, publisher of kontaktmag.com. "PCDF definitely has its own identity."
About 2000 guests attend the event each year. Vendors include furniture designers, interior designers, architects and home décor brands. "Everybody just kind of creates their own space," Crossland said. Some of this year's exhibitors include Roche Bobois, Poliform, Hinkley's Lighting, Syteks Design, Poggen Pohl, and artist Kyle Jordre.
This is the first year that the event will be at The Anchor Building. It has been held once at Monorchid Studios and twice at the Icehouse, both in downtown Phoenix. The Anchor Building, built in 1928, is used as a warehouse for R&R Surplus, a vintage clothing store. There are plans for the remainder of the space in the building, such as a cafe and an organic hot dog stand.
About Design decided to have the fair despite the suffering economy.
"I think now more than ever, people need to be entertained and inspired," Crossland said.
For the previous two years, PCDF advertised the fair in a simple way, presenting photographs in black and white. This year, PCDF is adding much more color. "With the creative look of the show, we're definitely projecting something more colorful, more upbeat, more exciting," Crossland said.
kontaktmag is also preparing to launch an iPhone application which will include stories, maps to locate events, links to the web site and podcasts.
For more information, contact Don Crossland at don@pcdf09.com.
---