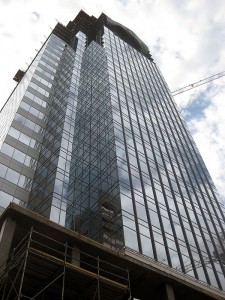 Downtown Phoenix's newest addition, CityScape, celebrated the "Topping Out" of their 27-story Phase I office tower yesterday.
Phoenix Mayor Phil Gordon and Arizona Governor Jan Brewer joined management leaders from RED Development and Hunt Construction Group at the ceremony to announce nine new tenants signing on for CityScape's Phase I office tower. The tower is slated to open in Spring 2010.
The nine new tenants include six restaurants: The Breakfast Club, Blu Burger Grille, Press Coffee, Mojo Yogurt and two new Aaron May restaurants including an Asian Noodle House and a Mexican-style restaurant. Two clothing retailers, including a Scottsdale-based denim retailer, Designer District, and Republic of Couture, join the rapidly growing list. Gust Rosenfeld, one of the Valley's oldest and most prestigious law firms, has also signed on.
These nine join 11 other tenants in the CityScape Phase I project. AJ's Fine Foods, Urban Outfitters, Gold's Gym, CVS Pharmacy, the Kimpton Palomar Hotel and others have already committed to the project.
Despite Bashas' Supermarket Inc., owners of AJ's Fine Foods and Food City, filing for Chapter 11 protection earlier this week, CityScape remains hopeful that they will still choose to be a part of the project.
"We know that all of their reasons for wanting to put an AJ's in Phoenix are still the same. We continue to hope that it still makes sense for them," said Jeff Moloznik, Development Manager for RED Development.
If AJ's Fine Food's does have to pull out the project, Moloznik assures that the space will remain grocery space.
The development group behind the 600,000-square-foot tower worked hard to achieve a balance between national retail chains and local, owner operated stores. The local stores are unique additions to the CityScape project because they will be the first or second of their kind in Phoenix.
Mayor Phil Gordon is pleased with the balance that CityScape's retail is aiming to achieve.
"What are retail places trying to become? Faux-downtowns. Well, Phoenix has the only downtown [in Arizona] so we don't need the faux," Gordon said. "People will come because they enjoy it. It is vibrant and eclectic."
Hunt Construction, the company behind the Phoenix Convention Center expansion, Cardinal's Stadium and the Civic Space Park, became Arizona's first and only building contractor to receive Arizona Division of Occupational Safety and Health's Voluntary Protection Program STAR status for the CityScape construction. This means they now manage themselves in the areas of safety.
In conclusion to the topping-off ceremony, a boxed pine tree was lifted 368 feet to the top of the tower. As Scandinavian tradition goes, to appease the tree-dwelling spirits the final timber is lifted into place in celebration. Today, many construction companies place a pine branch at the top of the completed building.
Look for CityScape's Phase I tenants taking residence between March-June 2010.
---