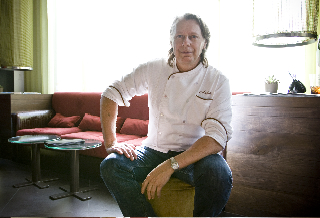 If you happened to be wandering through the streets of downtown Phoenix last Third Friday, there is a good chance you may have seen a group of foodies hopping from one spot to another well into the night.
There's a decent chance you may have even recognized one or two of them as the masterminds behind some of the Valley's best restaurants. This was the first incarnation of the downtown chef crawl, and it kicked off with a glorious mix of late-night noshing, old-fashioned exploration and drinks, drinks and more drinks.
The schemer behind this voyage is Chef Christopher Gross of Christopher's and Crush Lounge at the Biltmore. Having previously explored downtown's food and drink scene, he was curious how many of his contemporaries had done the same.
"I really don't go downtown often," Christopher says. "A few years ago, maybe twice a month, we'd go down to hit some of the unusual bars."
His curiosity as to how the downtown restaurant scene has evolved got the best of him. The list of places explored spans the gamut of downtown liquor licenses — ranging from the glitz of Hanny's to the funky grit of the Ruby Room — and mapped it out. The only thing left to do was find other curiously compelled chefs, and that was the easy part.
Food icons such as Aaron May (Scottsdale's Sol y Sombra and Over Easy in Phoenix), James Porter (the now-defunct Tapino and the soon-to-open Petite Maison), Beau MacMillan (elements at Sanctuary Camelback Mountain) are just a few of the members of the party.
The list was a combination of places Christopher used to hit regularly when downtown and places he's been meaning to try.
"I hadn't been to Hanny's — what a beautiful place. It was someplace I wanted to see. We had a few snacks there and it was really good.
"Bikini [Lounge] I'd been to before. There was maybe four of us and we had several drinks. When we paid, it seemed to cost less than the tip at the Merc Bar."
"We went to Sens. [Owner Johnny Chu] made some really neat stuff. Then right next door is PastaBAR. We had a good time there as well, and the Turf next door. When we got there, I ran into a table of people who come [to Christopher's] quite often."
Somewhere in between they managed to hit the Roosevelt, the Lost Leaf, PaisleyTown, the Trunk Space and Conspire. Still not satisfied, Christopher cites Alwun House, SideBar and Carly's as spots he would have liked to add to the tour.
"I went [to Alwun House] a couple of times," he recalls. "It would have been fun for everyone to see if there was something unusual going on there… well, there's always something unusual going on — that would have been fun."
So, what's the fascination with downtown, you ask? It's no secret that more and more chefs are venturing downtown to open new dining ventures. Christopher and pals used to cruise bars downtown regularly, and he wanted to see if the hype was warranted.
"When a mutual friend was spinning [records] downtown, we'd call it 'dive bar night' and four or six of us would go to places like Fat Cat's, Bikini Lounge, the Roosevelt, Carly's — we'd hit a bunch of places like that.
"Most people think Phoenix is so vanilla. [They think] there's nothing urban or 'SoHo-ish' about the place. So, it would be fun to organize a chef crawl downtown. These are people that don't venture downtown, so they could see that there is something else to Phoenix other than Camelback and further north.
"There are so many restaurants [downtown]," he continues. "More people are moving down there. If you're looking for something urban, small and not too expensive, I think it's great."
Christopher does say, however, that to open a restaurant in the "moderate to above-moderate" price range downtown would present a challenge right now. He thinks those that live north of downtown and beyond may hesitate to come downtown to eat.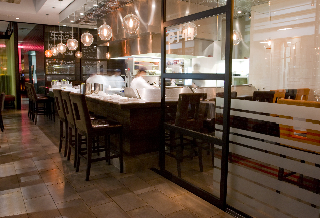 "People in Phoenix have a tendency to stay within a three-mile radius of where they live, and it's been like that for some time. Something high end could still be difficult downtown. But with the light rail, between 7th Street and Tempe, I think that area is very promising, with the interaction between downtown and Tempe."
With time, he thinks the food scene along the rail will flourish. "There's been so much [negative] speculation about downtown in the past, and that's changing," he says. "Now with indie grocery stores popping up, you can actually walk out your door and get food."
When asked whether the chef crawl could turn into a semi-regular venture, Christopher doesn't hesitate to suggest its expansion.
"Possibly twice a year!" he beams. "We'll just have to put little GPS [devices] on us, or leashes. We have a tendency to roam around, especially when there's a stop with two or three places to go to.
"A lot of the chefs wanted to see several of the places downtown as well," he says. "Everyone really enjoyed it, especially after a few drinks. They're all ready to go again."
After a raucous night, from what he can remember, Chef Christopher proclaims the chef's crawl a rousing success.
"In the restaurant business, we work a lot and get off late and go home. This was a chance that had nothing to do with work for a lot of us to get to know each other — and downtown — better. Good camaraderie."
---