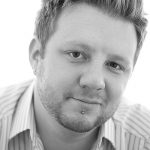 Kyle Hildebrant: entrepreneur, bike commuter and Japanese amateur enthusiast chef.
Hildebrant is the Principle Partner of the Phoenix branding company, Ovo. "We utilize things like design, and advertising, marketing, and interactive design all from like a branding perspective," he explained.
Their approach is very holistic. "We have a franchise of spas we work with and they came to us with a concept and we helped them modify and refine. We named them and developed the identity for the company and we do ongoing advertising and we help with the way they answer phones or the way the spa smells. It's just the entire experience."
The company's name is more than just a palindrome. "It literally translates to the word egg or it means the birth of or the beginning of. Which ties into the branding aspect of what we do," Hildebrant explained.
Nearly 70% of Ovo's clients are from out-of-state. Through the Google Ads, direct mail campaigns, and community networking through social media, Ovo reaches further than the Phoenix area.
Hildebrant recently began bike commuting on a Novara Fusion hybrid. "It's been easy for me because we found an office and I located myself close. I can ride there in about the same time as a car in traffic."
Hildebrant describes himself as an outdoors kind of guy. "There is something cool about powering your own accord versus driving a car. I am by no means a severe environmentalist, but you know," he said.
His new commuting has also given him a chance to take a new look at Phoenix. "Once you start biking around town, you have a whole new perspective of the city." Once the summer heat starts, he said he will be going back to the car.
He has lived in almost every part of the Valley, but Phoenix's "cool vibe" offers a bit more. "The mindset of people down here is more culturally sensitive. You see a lot more people with a desire to be part of a community and with a more progressive lifestyle."
The Roosevelt is one of his favorite restaurants in the area. Hildebrant feels it reflects the city well. "There's more of a community vibe there. Phoenix is a big city with a small community."
---