From the Arizona Room is a weekly column examining the historic, reuse and infill structures in Downtown Phoenix. The inspiration for this column stems from the ever-expanding resources in Burton Barr Central Library's Arizona Room (located on the fourth floor). For further information on this and other historic structures in the area, visit the Arizona Room during normal library hours.
817 N. 1st St. in Evans Churchill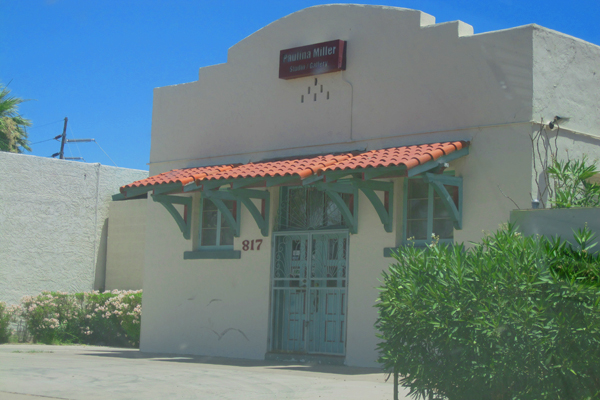 This week is the third spot in our 1st Street miniseries, the Paulina Miller Gallery, near 1st and Garfield streets. The gallery space, one of Downtown's hidden gems, is surprisingly cavernous inside, with polished concrete floors and high ceilings. Built in 1937, the Mission Revival-style building wasn't always intended for commercial purposes.
Originally known as the Charles E. Palen House, the brick structure was built using a concrete foundation and a hefty slathering of stucco sheathing. The sand-colored stucco you see today is newer, but remains similar in color to the original (most likely an off-white color). Palen was a painter in Phoenix, and one of a few residents of the home.
The building's most recognizable feature is the roof line's stepped and curved parapet, which greets the 1st Street traffic. Additions on the north and east sides of the building were added years later, and the windows have been replaced several times. The tiled window awnings were not part of the original building structure.
Later, the Palen House was converted to commercial usage, most notably as the Merryman Funeral Home. The building pioneered the expansion of funeral homes out of the original Phoenix city core into neighborhoods. Obviously, many have since followed suit.
The Paulina Miller Gallery opened its doors in 2000, and will sadly close at the end of this month's current exhibit. I urge you to make the building a stop on your Third Friday route this week. The building will continue to host special art shows and private social and corporate events in the interim until a new business takes occupancy.
Source: City of Phoenix Historical-Architectural Resource Survey of the Evans Churchill Area, April 1988; Historic Preservation Commission and Office Progress Report, 2006.
Is there a historic property in Downtown Phoenix you'd like to see in From the Arizona Room? Email me at si@downtownphoenixjournal.com with the address and a brief description.
---