tacos
Posted on 6/16/11 by Justin Lee » No Comments
Smoky and charred, great taquería-style carne asada is all about texture. Sometimes marinated and seasoned, sometimes barely touched by oil and salt before hitting the griddle's singe or charcoal's sear, the often brutally chopped, well-done beef (usually skirt steak) is comfortably known for it's unmistakable, mildly resisting character.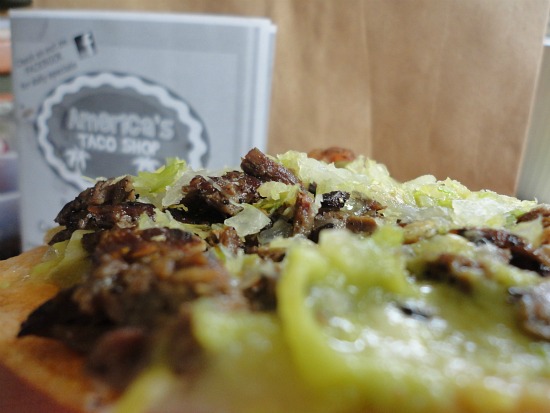 There are several fantastic outposts for great carne asada throughout Phoenix. And of those, it's definitely no secret that America's Taco Shop, the growing local enterprise now with two locations in central Phoenix alone, serves a nearly pitch-perfect example of the savory, versatile Mexican staple. Whether jammed inside tacos, burritos, or unapologetic quesadillas, America's knows well how to target and satisfy straightforward, tried-and-true cravings.
Beyond their regular menu items, one of my perennial loves at America's is the Vampiro. Sinister tag-name aside, the Vampiro is a tostada with unassuming gusto. A small, crunchy corn tortilla, evenly pressed with layers of salty chopped carne asada, melted jack cheese, caramelized onions, guacamole, and finely shaved, crisp iceberg lettuce. Flick a kiss of hot sauce on top, maybe complement its glory with a crowning pour of their bright housemade salsa, or, who knows, maybe amend your order to add an aguas fresca or two, and there you have it: you're already midway through a worthy, edible late-afternoon recharge.
America's Taco Shop is located at 2041 N. 7th St. in Coronado (602.682.5627), and at 4447 N. 7th Ave. in Melrose (602.515.0856).
Posted on 10/20/09 by Kenny Bump » No Comments
I have an appreciation for the challenge of the phrase "best in the Valley" or "best stuff ever made." America's Taco Shop claims to have the best carne asada in the Valley. Those are some big words for a little cantina-looking place, but I felt it needed to be addressed via my palate.
Now, at first glance, this little stop on the eastern side of 7th Street looks like your average little Mexican dining place. Salsa music permeating the air, a crowded porch covered in Corona advertisements — all wrapped into an eclectically colored abode.
So, once I manage to push my way through the lunchtime masses gathered on the porch and across the inside dining area, I begin searching for a menu to properly order. Surprisingly, the menu is scribbled on the upper portion of the wall in chalk. Sounds childish, but it is kind of a cool little feature. And, from the looks of the packed place, I can imagine that most of you were already there that day. So, we ate lunch together and you didn't even say hello. Ouch.
When the cuisine arrives, the scent only seems to back up their claim. It is heavenly. Curiously though, it is served with a miniature slice of radish and cucumber. Not sure why, but the rabbit food is not what I was there to partake in. The taco seems simple enough — chopped, tender beef and lettuce with a side of salsa. So far, I'm only impressed by the scent. That little doubting voice in my head is immediately squished by each resounding bite. I can't stop eating this. It is savory and decidedly awesome. There are not sufficient words to describe the flavor that rocked my face off. I will resort to borrowing some of my newly acquired Spanglish and say, "Fantasico!" So, even if you are a doubter of all things that are seemingly self-absorbed, I ask you to tempt the fates of America's Taco Shop. I think they might actually be correct on this one.
America's Taco Shop is located at 2041 N. 7th St. in Coronado.
Posted on 5/01/09 by Si Robins » 2 Comments
Do you live green? Or are you still curious how to? Haus Modern Living near Camelback and Central has all the answers at Saturday's DIG (Do It Green) celebration. Dubbed "the green outdoor living event for the urban dweller," Haus will welcome green designers, gardeners, local artisans and supply companies for a lovely little festival where you can get all your questions out into the air. If nothing else, it's the perfect spot to find that eco-conscious, desert-approved patio furniture you've been scouring for before the big bake arrives. Tunes from DJ Mike Montoya will also keep the crowd rockin', while a kickin' taco cart will feed the masses.
Haus Modern Living
4700 N. Camelback (light rail station: Central/Camelback)
8 a.m. to 2 p.m.
602.277.0111