tacos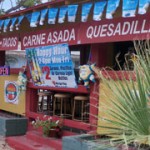 Posted on June 16th, 2011 by Justin Lee
Justin Lee hits up neighborhood favorite America's Taco Shop and leaves smitten with the Vampiro.
Posted on October 20th, 2009 by Kenny Bump
America's Taco Shop claims to have the best carne asada in the Valley. Those are some big words for a little cantina-looking place, but I felt it needed to be addressed via my palate.
Posted on May 1st, 2009 by Si Robins
Do you live green? Or are you still curious how to? Haus Modern Living near Camelback and Central has all the answers at Saturday's DIG continued…