Kim Larkin
Posted on 1/15/10 by Janessa Hilliard » 1 Comment
The wait is over, Phoenix.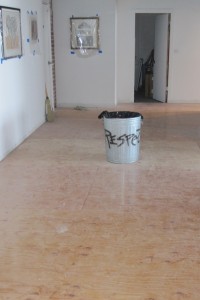 Modified Arts, the beloved hipster haven, will be reopening its doors just in time for this month's Third Friday. Under new direction from husband-and-wife team Adam Murray and Kim Larkin, Modified, once favored for the indie music and local art it housed, the space is now shaping up to be one of Downtown's premier galleries.
"The changes we made were very minimal, but the effect was drastic" Larkin says. "We have more versatility, more room for hanging [artwork]."
Indeed, the space looks bigger and brighter, but not entirely unrecognizable. The stage is noticeably absent, as is the front "bar" and the mysterious green room. Gone are the endless flyers for upcoming shows and the cramped DIY space feeling. Yet even among eggshell white walls and purposefully hung paintings, it still manages to maintain its intimacy.
It's this feeling that Larkin hopes to keep part of Modified Arts, and a feeling she hopes the opening exhibition will elicit amongst the public. Aptly entitled "Modified Arts: Looking Back on the Future," the collection showcases predominately local artists, or ones with local ties, and pieces with a communal message.
"We didn't want to be reactionary by any means. We want to bring it what's missing," Larkin says, saying the couple worked with community members to determine what needed to be brought to Modified. "There's a really strong community."
The final result is the product of four months of research and heavy debate. Including pieces from the 1930s through present day, the works offer a unique take on community, Arizonan culture and the Downtown Phoenix mentality. The works range from lithographs to oils, and a detailed house structure to a lightbox. The exhibition will also feature articles on prominent or communally important Downtown neighborhoods, and photos of noted Downtown spaces. Videos from deCompression gallery and Phoenix archives will be shown, creating a "Phoenix vision" as Larkin calls it, smiling.
Wood artists Phillip Sanderson, painter Phil Curtis, colorist Dorothy Pratt and artist Rose Swartz will be shown, amongst a dozen featured artists. Larkin notes that many of the artists will be at Modified Friday night. She says that personal interaction enhances the understanding of the art by creating a bond with the artist, learning their inspirations.
"I'm trying to break away from the cold gallery environment," Larkin says of the show's styling. "I look for art that is conceptually rigorous, both socially relevant and relevant nationally — not just in Phoenix. There's something really exciting and invogorating in each person's expression. I'm interested in personal histories."
Larkin speaks with an acknowledgment that the people showcased in the gallery are as equally necessary to community understanding as the works themselves.
"We're looking back and recognizing some of the faces that have been here before," Larkin says of the premiere show. "We're taking this over from Kimber [Lanning] who was a force, such an institution, but not the only one."
Lanning, who first opened Modified Arts in 1998, announced in October she was turning over the business to the couple. The backlash was quick and the public was vocal — both praising and criticizing the move. Yet Larkin says she's encountered a lot of support from the art community and neighborhood as a whole.
"There's been two distinct reactions, because there were two groups that came to Modified," she says, referring to the music and art crowds.
Perhaps the biggest misunderstanding, which has morphed into a criticism of sorts, is that Modified will no longer be home to some of the live music Phoenicians have come to expect. On the contrary, Larkin says. Modified will still house live music performances, although the presentation will be quite a bit different and more organic. Since the stage has been removed, the performances can encompass the entire room.
The first will take place on Saturday with Static Announcements, a trio of improvisational jazz musicians; a collaboration between the rootsy TownCraft and singer/songwriter Michael Krassner; and the improvisational ensemble Dr. K's Acoustic Playground. Look for all kinds of experimental performances to dot the calendar in the future.
"Looking back into the Future" opens Friday, January 15 from 6-9 p.m. and hangs through February 13. Saturday's performance starts at 6:30 p.m. and is $7.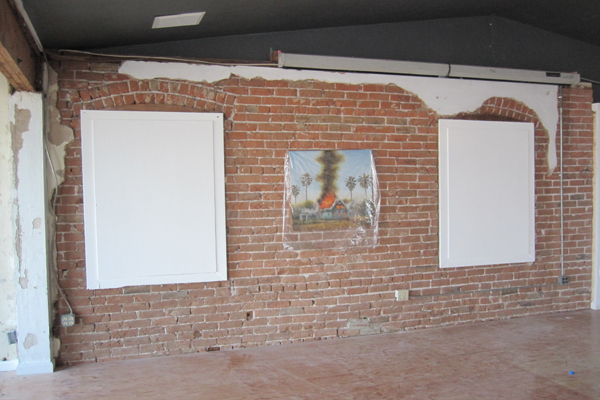 Modified Arts is located at 407 E. Roosevelt St. in Evans Churchill — light rail station at Central/Roosevelt. 602.462.5516

Posted on 10/07/09 by Si Robins » 3 Comments
In the wake of the news that Kimber Lanning is leaving her post at Modified Arts, a premature outrage ensued, before anyone really considered who is taking over the space.
Enter Kim Larkin and Adam Murray, a husband-and-wife duo that, truth be told, has some pretty stellar ideas for the space. Don't get too heated; your beloved indie rock mecca won't be the same, but it won't be that different, either.
Yeah, they're a young couple, but they're confident, experienced and truly quite innovative. With these two at the helm, Modified Arts is only growing, not fading away.
Murray, who has been working sound at shows at Modified Arts for some time, has an extensive background in audio engineering. He is confident people will find that music will not be leaving Modified Arts — it's simply being refocused to better fit the space.
"Being at Modified doing sound, it's obvious music is a big thing there," Murray says. "Kimber was willing to give up-and-coming musicians a venue to express themselves. So, going forward, I knew not just on the visual side, but also on the audio side, focusing on up-and-coming artists, showcasing something different is important."
There's also the business aspect. Murray and Larkin agree that Modified Arts has really been two separate entities — the music and the art — and they've been pretty exclusive. People who came for music didn't really care about the art on the walls, and vice versa.
"We want to make it a unified experience," Murray says. "It's a matter of having things there that fit the space. The room is shaped like a U. I was constantly pulling my hair out trying to do sound there. We'll take advantage of the intimate setting — that's something that people really like about Modified. I want to capitalize on that. There are artists that will work well within the space."
Murray, in particular, is interested in continuing to foster Downtown Phoenix's music scene. Just because a band won't work well in Modified Arts doesn't mean he won't help to find them a show elsewhere. He counts consistent interaction between venues and arts spaces as key to Downtown's growth. In fact, he's hoping more venues pop up to help bring more artists Downtown.
So, that's out of the way. Now we all know: Don't write off Modified Arts for your live music intake. Meanwhile, Larkin is planning an improved focus on visual arts that will really support emerging artists.
Larkin's background is in gallery management, and she opened a gallery with a friend in Salt Lake City soon after graduating. She's parlaying that experience into Modified Arts, and respecting the tradition it has earned.
"Modified Arts has always been about the community and building it from the ground up," Larkin says. "That's absolutely something we want to maintain and help grow. Change can be difficult, but change can be good, too."
During the period between the current Modified Arts' last show and the reopening for January's Third Friday, Larkin and Murray will be touching up the space to be more suitable for exhibiting visual art. They plan to open the space up a bit more and give it a better flow, but they're committed to keeping the building's current charm and personality.
"What we want to focus on is creating an overall experience for people," Larkin says. "We want it to be something they can take away with them, too. We want people to interact and converse. Too often people feel inhibited in a gallery. We want to find ways to break down those barriers."
Larkin cites different ways attendees will get involved — everything from artist meet-and-greets, to audience participation at experimental music performances, to educational and speaking events. She is hopeful that this renewed sense of place will inspire all kinds of presentations within the space.
Having spent time in Salt Lake City and most recently Pittsburgh together, Larkin and Murray moved to the Valley for Murray to attend the Conservatory of Recording Arts and Sciences. With gallery experience already under her belt, Larkin started contacting anyone in the arts scene she could find. Naturally, she met Lanning, and kept returning to Modified Arts for openings. Murray enjoyed doing sound at Modified shows so much, he finished his intern work and volunteered to stay on board.
"To be honest, when we moved here, I thought we'd stay for Adam's program; I didn't think there would be many opportunities, so I figured we'd move on someplace else," Larkin says. "Over time, it proved us wrong. Since moving Downtown, it's been like a breath of fresh air.
"When I moved here, everything felt new and young. There's this vibrancy; it feels like there is a lot happening here, as opposed to Pittsburgh, which comes from old money. It's exciting because you can influence that growth and take part in it."
Posted on 9/28/09 by Si Robins » 7 Comments
By now most have heard the news that broke yesterday that Kimber Lanning is stepping down from her helm at Modified Arts, and the indie music that is oh so loved here is going with her (see her statement below). Though it's certainly not a shock due to her massive commitments elsewhere (Kimber is the closest thing Phoenix has to Superwoman), it is also certainly the end of an era.
Right off the bat, I want to say that I'll continue to fully support Modified and its new owners, Kim Larkin and Adam Murray, in whatever direction they choose to take. But, I must also say that it's tremendously sad that Downtown Phoenix (well, the Valley, really) is losing its independent music mecca, whether the space continues to throw one-off local shows or not.
Phoenix has struggled with its music identity for decades now, as evidenced by the sheer number of venues that have come and gone in recent years (off the top of my head: the Nile, Nita's Hideaway, Long Wongs on Mill, Bash on Ash, the Paper Heart, Onespace, the Mason Jar, Fat Cats, Neckbeards, etc.). Put Modified at or near the top of that list. Over its decade-long run, that little hole-in-the-wall art gallery, creaky floorboards and all, put on some killer shows, and brought in talent from all over the world — much of which has graduated to the likes of major music festivals, theaters and arenas. No one can argue that Modified allowed Phoenix to be on countless tour itineraries. Sure, someone will come along — hopefully in Downtown Phoenix, although there are whispers of an all-ages music renaissance about to crop up once again in Tempe — and open a new space that will one day reclaim the booking prowess that Modified earned over its years of service. But, it won't happen overnight. And, until then, the independent music scene here is at a serious loss.
From Kimber:
Hello Phoenix,
I think you all know how much I love this town, right? Maybe some of you know me from Stinkweeds, or Modified Arts, or some of my newer friends know me from the work I'm doing with Local First Arizona. Well, I want to talk to you about some upcoming changes that you should know about. It's important that you hear this from me, and that you know that you can ask me any question you may have at any time.
A brief history of Modified Arts: we opened in January of 1999 as a dedicated art space, providing a place for painters, musicians, actors, dancers, and poets to share their work in an affordable and welcoming environment. As you know, Roosevelt Street has blossomed over the years and is now home to an astonishing array of galleries, shops, and restaurants. I am proud to have been part of what has been nothing less than the complete transformation of a community.
Over the past 10 years, I have changed as well. I am now actively involved in community development, and work extensively on both city and state initiatives that I believe will be for the betterment of us all. Encouraging density and infill, sustainable policies- rather than suburban policies of the 50's, local procurement, economic development, and entrepreneurship are my top priorities. Many of you who know me know that I have worked hard to walk the line between indie rock shows and city council meetings, between stocking the fridge and public speaking engagements.
It's time for something to give.
I am pleased to introduce you to Kim Larkin and Adam Murray, a husband and wife team who will be the perfect people to carry on the Modified banner without me. I am overwhelmingly happy to have found a solution to a difficult situation. I will never give up that building, but I didn't want to place a business in there that wouldn't actively contribute to the neighborhood, and in particular to Roosevelt Row. Kim and Adam will be able to advance Modified in a way that I am unable to do with my current work load.
Kim's background is in arts management, and she has already run a gallery of her own in Salt Lake City. Adam is a sound engineer whom some of you may know as a sound guy at Modified now. They have big plans for Modified Arts and I expect you all to get behind them and show support.  Modified Arts will be more of a traditional gallery, though Adam will still be doing shows. However, we must tell you that the big, indie rock shows you've come to know and love at Modified will have to find another home. The programming will be changing to better accommodate a gallery, so the slant will be more experimental and progressive.
We will be closing Modified Arts as it exists right now the second weekend in December and re-opening with a new look for Third Friday in January. The stage and green room will be gone, giving way to a cleaner look that will better suit the artwork.
I know some of you will have a hard time with the change but I am asking you to embrace it the best you can and recognize that for almost 11 years we did something no one thought we could do. We ran in independent music venue and art gallery with volunteers from the community and kept the rent at $160 so that bands could play and make some money, and promoters could still bring the small bands and make ends meet. We provided the stepping stones for most of the bands playing at the Rhythm Room today. In fact, some of the bands playing at the Marquee or Cricket Pavilion got their first show in Phoenix at Modified. If you were there for one of those shows, please hold the memory dear.
As a city grows, things change. Be proud of what each of you contributed and be grateful you were there. Looking forward, Modified Arts will be something new to explore and yet familiar. Kim and Adam have promised to keep working with many of the mid-career artists I've worked to develop over the years, and I feel the situation could not be better. They will give the website a new look and have lots of plans for better events. I'm sure they will be in touch with many of you in the coming weeks to introduce themselves and to communicate their plans to you directly. You will like them a lot, I promise. Kim and I are collaborating on a show in January (my last, her first) that will document the history of the Phoenix arts scene going all they way back to the early 70's.
I could talk to you all for days about the ways Modified has changed over the years- some good and some bad. The community has changed, too. I know I have certainly been distracted with all of the policy work I've been submerged in, but I will save that discussion for a book one day. Suffice to say I am happy I was able to be a part of it, and I'm happy I found someone to carry it on.
For all of you who were there along the way: thank you. Modified is a shining example of what a community can do when we work together. I look forward to whatever we decide to do next.
Kimber