H2E Design Store
Posted on 8/20/12 by Kim Larkin » No Comments
Six finalists have been chosen to present their innovative ideas tonight at the Arizona Science Center for Beckett's Table's first annual Feed Your Dreams Dinner. The search for the next big idea in food and science will culminate in an evening featuring presentations by each of the contest finalists and a five course dinner with wine pairings.
The offerings from Chef Justin Beckett and the executive team, which includes two world-class sommeliers, will demonstrate the award winning restaurant's own talent for crafting delicious and innovative dishes.
Chef Beckett's desire to "pay it forward" and contribute to success of local entrepreneurs with a passion for food and science provided the inspiration for the event.
Says Beckett, "The idea and the heart of the contest is to give back to the community on a local level." Contestants were asked to submit their dream idea to win a chance at a portion of a total prize package of $27,000 in cash and business assistance.
Dinner attendees will vote live at the event to select one winner who will be announced along with the winners of the Grand Prize and People's Choice awards. A limited number of tickets are available to purchase for $145 until 5pm at feedyourdreamsaz.com.
So whose big ideas made it to the finals?
Charles Lee, Chandler – mberry
Lee wants to expand his existing business to market and distribute the miracle berry (Synsepalum dulcificum) to make healthy living fun and delicious.
Jason Raducha, Phoenix – Noble Bread
Raducha's idea is to develop mobile micro bakery producing artisan bread. A custom wood- fired bread oven built from 5,000 pounds of fire brick and refractory cement and mounted to a dual axle trailer can literally bring fresh baked bread to your doorstep.
John Bogart, Phoenix – Self-Sustaining Aquaculture
Bogart wants to create a self-sustaining aquaculture that uses fish waste to fertilize a vegetable garden. Truly a self-sustaining eco-system, the hydroponic garden will also be used to grow the food for the fish themselves.
Bruce and Tina Leadbetter, Phoenix – Stone Hoe Gardens
The Leadbetters run an organic farm that repurposes waste from the local food industry to create nutrient rich soil in nylon socks. With the help from some earthworms the socks are filled with a mixture of organic food waste, water and coco-peat to create an "uber-soil" to grow local produce.
Cade Stripplehoff, Phoenix – Sub-Irrigated Planter Systems
Stripplehoff's new technology uses 50% less water and an automated refilling system to grow heirloom and high quality produce. Designed for homes and restaurants, the planters are virtually weedless and make growing accessible and simple.
Christoph Kaiser, Phoenix – V Gen Powerplant
Kaiser has an elegant solution to convert cooking grease into electricity and biodiesel fuel. Affordable and compact the generator is ideal for small and narrow spaces.
If you go
Event: Feed Your Dreams Dinner
When: TONIGHT, August 20 at 6 p.m. Tickets available until 5 p.m.
Location: Arizona Science Center
Information: feedyourdreamsaz.com
Posted on 7/03/12 by Kate Kunkel » 2 Comments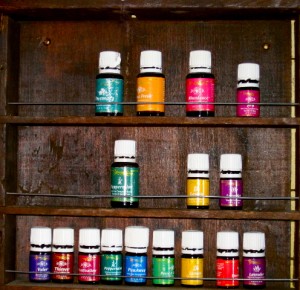 The power of healing does not always come in pill form.
Essential oils, the liquid extract found in plants, are becoming the products of choice for local companies looking to offer alternatives to chemical-filled health and beauty products on the market today.
Loral Deatherage, cofounder of ecocentricity!, hosts classes on essential oils and uses them herself for anything from the common cold to stress relief.
"I usually base things on facts and research, so when I first heard of these essential oils, I thought it was just some modern day 'woo-woo,'" Deatherage said.  "But now, every time I have a pain or ailment, I go to the essential oils first rather than to a doctor or medicines."
According to Deatherage, essential oils are basically the energies used by plants to protect themselves against various threats. The plants are typically steam distilled to capture the essence inside. The oil from each plant contains different properties and can be used for a variety of applications.
These oils are similar to herbal medications, Deatherage said, but much more powerful.
Common uses include alleviation of burns, headaches, colds, coughs, upset stomach, nausea, fever and bug bites. People also use them for aromatherapy to relax, sleep better and even prevent illnesses.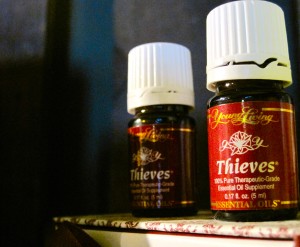 Despite the long list of benefits, Deatherage said people today aren't commonly using these oils because our society focuses on hospitals and doctors for healing or wellness.
"Doctors won't usually steer people toward essential oils for their illnesses because it's just not part of their training," she added. "They are taught to treat things with drugs or surgery."
Ancient civilizations used oils (similar to the blend "Thieves," pictured right) to fight off illnesses and even ward off the plague, but then we became too "smart" with our technological advances, Deatherage said.
"We forgot about what's out there in nature, and about these methods that are much easier on the body," she said. "We've turned our health completely over to our doctors rather than being responsible for our own bodies."
Tracy Perkins, owner and artisan at Strawberry Hedgehog, said she uses essential oils in her bath and body products because conventional products can contain over 3,000 different chemicals.
"There is a reason people get headaches when they head through that (perfume) section in the shopping mall," Perkins said.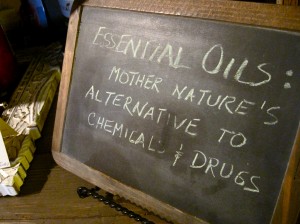 She added that the blanket term "fragrance" often refers to products containing thousands of mystery ingredients, including some that are toxic.
"We could easily return to using all essential oils in place of synthetic fragrance," Perkins said. "(There are) greatly improved products available that actually help people rather than hurt them."
Kari Bower, owner of Emelmahae Soap Company, said she has used essential oils for over 20 years and also refuses to put any synthetic fragrances into her products.
"Using essential oils makes for better products because your body knows what to do with them," Bower said. "They are also better for the earth and won't cause pollution issues because the earth knows what to do with them, too."
With more people becoming "label-readers," Bower said there is much more awareness of the difference between natural and synthetic products. When she sells her products at the Phoenix Public Market, customers will actually pick up the soap products and read the list of ingredients.
"People are starting to notice a difference in these types of things," she added. "I think that (the oils) are a much better choice, and they enhance life while helping clean out unnecessary toxins from the things around us, so they definitely deserve a shot."
Keep an eye out for these local companies that sell essential oil products:
Phoenix Natural Medicine & Detox Center