condos
Posted on 10/27/11 by Eileen Brill Wagner » Comments Off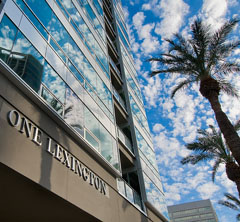 It's official, the 146 condos at One Lexington are 100 percent sold, marking a dramatic climb from the start of foreclosure proceedings to this Midtown Phoenix high-rise becoming one of the most successful real estate projects in Arizona in recent years.
And what makes developer Rob Macdonald, owner of Macdonald Development Corp., particularly happy is that they were able to stay within two weeks of the sales timeframe they set for themselves when he took over the former Century Plaza project in January 2010.
Nobody needs to remind the Vancouver, Canada-based developer that this occurred during one of the most difficult markets that Phoenix has ever seen. Banks were not lending, developers had limited credibility, and consumers were cash-strapped and commitment phobic.
Macdonald was able to accomplish what seemed insurmountable to most at the time. Working with his partner in the project, Rob Hubbard, president of Comcore Properties Inc., based in Issaquah, WA, they assembled a strong team, secured the needed financing, finished the building with numerous upgrades – and cut selling prices by 50 percent.
 'A True Urban Community'
"It's a true urban community, with every demographic," said David Newcombe, project director with One Lexington and Russ Lyon Sotheby's International Realty in Phoenix (and partner of DPJ's Live Here section). He said the condos have attracted everyone from Scottsdale residents looking to go more urban, to employees at the nearby St. Joseph's Hospital and Medical Center.
Among the distinguishing elements are nearly 12-foot ceilings, a pool and exercise room, an expansive lobby, a parking garage, six penthouse suites, and a location just steps away from the Osborn light rail stop.
"I am a happy home owner in One Lexington," said Councilman Tom Simplot. "One Lex provides an exciting, unique urban living environment. I am often on light rail, which stops at our front door, so I am connected to all the fun nightlife and restaurants from downtown to uptown."
There is still approximately 6,000 square feet of commercial space left on the ground floor of the 17-story building. Tenants include the Urban Yoga studio, a construction firm, and a design studio; they are in contract with an unnamed restaurateur "that will appeal to the lunch crowd."
Relying On Relationships
The development cost was $23 million, and Macdonald borrowed $11.5 million funding from HSBC, a global banking and financial services organization with whom his company has had a 25-year banking relationship. HSBC has funding his projects in cities such as San Diego, Vancouver, Seattle and Sacramento. Macdonald paid $100 per square foot.
"Our involvement with the project completely depended on the developer," said Andrew DiMiero, a director with HSBC in New York. "We would not have had the opportunity without Bob."
The biggest challenge for Macdonald when they took over the project was setting the pricing. The original developer was pre-selling the loft-style condos for more than $500 per square foot; they relaunched the sale of the condos for less than half the price, at $235 per square foot.
Another tricky element was how to approach the remaining 15 owners who had purchased at the original pricing. But, noted Macdonald, they were happy to know that, unlike other Phoenix projects, they would continue to be sold as condos and would not be switching to rentals. They wanted to see the building finished and were pleased with the upgrades.
"They were some of our biggest supporters, " said Dana Voldrich, of Blueprint Global Marketing, a Vancouver-based company that had a strategic alliance with Sotheby's International Realty to market and sell the condos. "They understood that we represented added value."
Macdonald noted they left the homeowners association with $350,000 in reserves.
Once An Office Tower
The building was built in 1974 as a high rise office tower. Equus Development gutted the building in 2005 to convert it into condos. But halfway through construction, the company decided to add penthouse condos, which required significant changes and delayed the condo completion; all but 15 owners dropped out.
Ultimately Equus went under and the construction lender, M&I Bank, sold the remaining condos to Macdonald.
"He was a visionary guy, caught in a downdraft," said Macdonald, crediting the former developer, Douglas Edgelow, of Equus Development, for the original concept.
Posted on 3/15/10 by Lyle Plocher » 1 Comment
For those individuals that are seeking the ultimate urban Phoenix living experience, I can think of no better place than the chunk of Downtown Phoenix that the U.S. Postal Service calls ZIP code 85004.
Virtually everything Downtown Phoenix has to offer can be reached on foot or by bicycle living in this ZIP code. The diversity of "things to do" and "places to go" is overwhelming. In terms of types of dwellings, everything can be found here, including apartments in "luxury high-rise" buildings; recently built loft-style condos and apartments; small, affordable live-work apartments; and even bungalows in historic neighborhoods.
The 85004 ZIP code is bounded by Thomas Road to the north, Buckeye Road to the south, Central Avenue to the west and 7th Street to the east. Within this part of Downtown lies many of our large cultural and sporting venues, such as the Heard Museum, the Phoenix Art Museum, Burton Barr Central Library, the Herberger Theater, Phoenix Symphony Hall, US Airways Center and Chase Field. Wow!
Consider the Downtown arts scene, with an extensive assortment of locally owned art galleries, gift shops, wine bars and restaurants in and around Roosevelt Row. Here is a limited list off the top of my head: Eye Lounge, Made, the Lost Leaf, Conspire, Modified Arts, Nine|05, the Roosevelt Tavern, Moira Sushi, Carly's Bistro, Revolver Records, Matt's Big Breakfast, PastaBAR, The Turf, Sens and the Breadfruit.
What's next? How about shopping at the Phoenix Public Market? Or here's a good one. People often complain that they would move Downtown if there were a large grocery store nearby. These people must have never driven by the Safeway at 7th Street and McDowell.
Bored yet? Why not take in a movie at the Arizona Center, with its 24 screens, or eat at one of the many restaurants there. Have a friend coming in to town for a conference at the Phoenix Convention Center? He or she can stay at the new Sheraton Hotel, attend their conference and then come visit you, without even needing a rental car.
I almost forgot about our new Civic Space Park across from the Arizona State University Downtown Phoenix campus. If you attend ASU or the U of A/ASU Medical School, it might be convenient to live in 85004.
I haven't even mentioned places like CityScape or all of the restaurants in the Downtown core between Van Buren and Jefferson streets. I also haven't mentioned destinations in the Warehouse District, such as Alice Cooperstown, Coach & Willies, AmenZone Primal Fitness Training and the forthcoming Deuce in the Anchor Building.
Last but not least, in the still somewhat undiscovered Central Park neighborhood, just south of the Warehouse District, lies some varied and unusual housing options as well as eye-candy places like the Bentley Projects.
I will leave the summarization of living in 85004 up to you, the reader. Clearly, there is something here for everyone.
Lyle Plocher is a licensed Arizona real estate broker with the Urban Connection Realty Team at HomeSmart. You can reach him at lyle@downtownphoenixjournal.com.

Posted on 1/21/09 by Lyle Plocher » No Comments
With the Light Rail now in full operation and real estate prices as low as they are, this is a perfect opportunity to move in to Downtown Phoenix.  The Stadium Lofts are located within a 5 minute walk to US Airways Center, Chase Field, the Light Rail.  Walk to many restaurants, theatres and every thing else that Downtown is beginning to offer.
The currently available unit features a private corner balcony. Spacious layout with high ceilings. Contemporary lighting & duct work. Chefs kitchen.  1300 + sq ft of living space
Priced at $209,900 – This same loft sold for $395,000 in July of 2005.
For more information about this loft or any Downwtown Phoenix bank owned properties, contact Lyle Plocher with Urban Connection Realty at         602 373 3725        or lyle@urbanconnectionrealty.com
Listing is courtesy of Presidential Realty, LLC