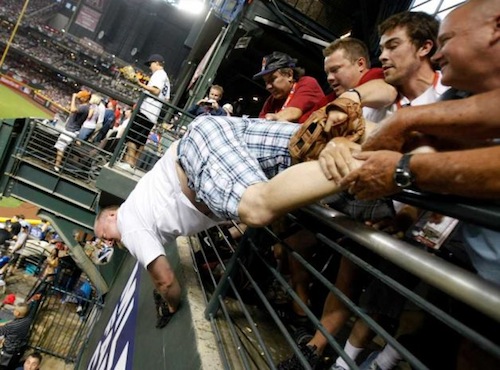 Scary scene at annual homerun exhibition
Our national pastime nearly turned tragic, again, during the All Star Homerun Derby Monday evening at Chase Field. Photos and video captured the images as Kingman resident Keith Carmickle came dangerously close plummeting over the edge of an outfield concourse. If not for his friends and bystanders who were able to restrain him and bring him to safety, Carmickle would have faced certain bodily injury and even possible death.
Painfully ironic because earlier the same day funeral services were held in Texas for Shannon Stone, the Rangers fan who fell to his death while attempting to catch a ball thrown into the crowd by Rangers outfielder Josh Hamilton.
Come on man
It's hard to imagine that anyone could be reckless enough to find themselves in a similar situation only days after the entire country grieved the loss of Stone.
Our hearts went out to the firefighter and father who was living his American dream at an innocent ballgame with his son when tragedy struck. What happened in Arlington was a tragic accident, while what nearly happened here in Phoenix would have been something completely different. Photos from the scene show Carmickle standing on a narrow ledge inches away from a 20-foot drop.
Changes could be on the horizon
With the recent death and high profile near repeat, it seems inevitable that Major League Baseball will analyze practices and policies to determine if ballparks are safe for fans. The time could come when players will be prohibited from tossing balls or any souvenir into the crowd.
In addition, it seems very likely that structural changes will be made in stadiums across the country. Possibilities could include and not be limited to raising the height of railing near overhangs and adding netting under concourse ledges.
Keep things in perspective
Going to a baseball game is not inherently dangerous, but fans need to pay attention, use common sense and most importantly, stay in control. Regardless of any additional safety measures put in place, the fact remains that fans will always frenzy after souvenir items at sporting events.
As a society we're in need of a serious reality check. When did it become acceptable to put your life at risk for a $7 piece of leather memorabilia? (ed note – some of the homerun derby balls had a gold cover, with a value of $150)
On a brighter side
It was nice to see Arizona fans show their support for outfielder Justin Upton during the homerun derby. D-back fans could be heard chanting Justin Upton's name and booing NL derby captain Prince Fielder during his introduction. Fielder was criticized locally for choosing teammate Rickie Weeks over Justin Upton.
Too bad former D-back Mark Reynolds didn't get to hit in his former home. He could have hit some mammoth blasts. He also could have been the first player to strike out in a homerun competition.
---