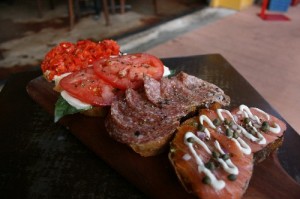 Postino, the popular neighborhood winecafé, will open its newest location on Monday, March 30 in the 1960's building that housed Katz's Deli for just shy of 30 years on Central Avenue. Similar to its first location, Postino Central will offer a casual yet upscale café filled with great food, inspired wines, friendly faces and good times. Perfect for a date night, girls' night out, lunch or dinner with a friend or just chilling out, Postino Central is sure to become an uptown favorite.
Owners Craig and Kris DeMarco opened the first Postino Winecafe eight years ago in the Historic Arcadia Post Office building at 40th Street and Campbell Ave. They pride themselves on renovating old, charming buildings and bringing the area around them to life.
"Everyone kept asking us when we would open another Postino, but finding the right location took time. We waited patiently for eight years," said DeMarco. "We are thrilled to be part of Central Phoenix in such a special building. We look forward to becoming an active participant in this community."
And the DeMarco's have kept their word, restoring the building to its original 1960's condition while evolving its form and style. The completely renovated 2,000 square foot building features a large open bar, modern design and décor, living-room style seating and the finest patio dining.
Besides an inviting atmosphere, Postino is famous for its wine lists. Inspired varietals at reasonable prices make up the wine-by-the-glass list, which features 24-36 wines that rotate every 90 days. Wine Merchant Brent Karlicek combines a variety of imported and domestic wines that can be enjoyed in the café as well as purchased by the bottle to take home. Beer lovers will enjoy local and imported ice cold beer on tap.
To complement the thoughtfully selected wine list, Postino paires an Italian-influenced menu filled with what they call "café cuisine." The food is simple yet substantial with only the freshest ingredients including produce from local farmers, imported Italian meats and cheeses and fresh bread from local artisan MJ Coe. You will find the same menu of bruschetta, salads, paninis, cheeses and antipasto at Postino on Central, all suitable for a meal or a snack.
Postino Central is located at 5144 N. Central Ave. on the southwest corner of Central and Colter. The Central Light Rail Station is a five-minute walk. Postino is open from 11am to 11pm daily. Guests can call 602-274-5144 for more information.
Update: Postino Central opened up ahead of schedule – nod to David from PHX Rail Food for the tip!
Your guide as you Explore Your Core
---