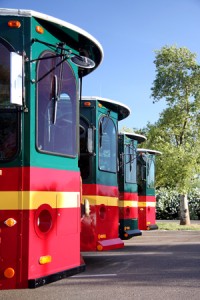 "We wanted to blow DASH ridership out of the water."
That's what Margaret Dunn said when she introduced Ollie The Trollie service into Downtown Phoenix in the beginning of 2009. And that's what you can expect from one of Phoenix's Top 25 Women In Business. The result? Increased ridership upwards of 275% over the last two months, with plans to expand and increase those numbers.
Dunn shared her passion of trollies with a group of Downtown Phoenix thought-leaders at a meeting hosted by the Phoenix Community Alliance (PCA) last night. "Holly The Trolley" will be operating from 7PM – 11PM Sunday to Thursday, and 7PM – 2:30AM Friday and Saturday. The expanded hours might be the just the extra push that our downtown nightlife needs to "be on the map." There are plenty of bars, clubs, and local haunts to keep any urbanite occupied – but a late night trolley service could be the ticket to making the Core of Phoenix that much more inviting.
Don Keuth, President of PCA, was on hand at the meeting to share happenings and exciting news on the horizon in and around Downtown Phoenix. Here are some tidbits:
Ridership on the Light Rail is above projections for every day – including double for Sundays.
Turf Accountant, a fully-licensed bar, is now open – big news because the last few bars have only served beer & wine.
Moira, the long-awaited sushi bar on 3rd St & McKinley, should be open by the end of the month.
Alta Phoenix Lofts will be taking its first tenants this month.
City Scape announced a more leases. The list now includes: AJ's, Gold's Gym, Urban Outfitters, and CVS.
The Downtown Phoenix Journal, your guide as you Explore Your Core

---