Where can you find Otro Cafe, Gallo Blanco, MATCH: Restaurant & Cocktails, Gadzooks, and Mamma Toledo's The Pie Hole – OTHER than Phoenix? These favorites and more culinary creators will be featured at AZCentral Food & Wine Experience, November 4-5.
We've teamed up with A.J.'s Fine Foods to get YOU to the event – and a win a fabulous holiday gift too!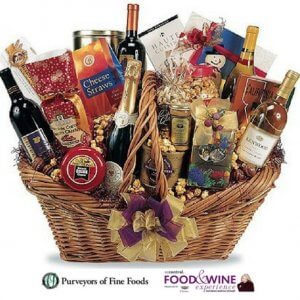 The winner will receive an A.J.'s gift basket (not the exact one pictured but one valued at $150) and two Grand Tasting tickets (valued at $170) for Sunday, Nov. 5.
To enter, just follow these two steps:
1. Follow @azfwe, @ajsfinefoods and @dtphxjournal on Instagram (must follow all three accounts for valid entry).
2. Tag two friends that would want to enter this giveaway.
Enter to win before Friday, Nov. 3 at 12 p.m. The winner will be announced at 1 p.m. on Friday.
AZCentral Food & Wine Experience celebrates chefs, vintners, distillers, and food enthusiasts all in one culinary experience. The event features the Grand Tasting, a showcase of gourmet samples from more than 60 restaurants over two days in two pavilions, plus a schedule of lively cooking demonstrations and tastings of industry-leading wines, spirits and craft beer.
Images courtesy of AZCentral Food & Wine Experience
---