DPJ's Wire series delivers news and information straight from the source without translation.
Phoenix Mayor Greg Stanton and Phoenix Center for the Arts will present the Sixth Annual Mayor's Arts Awards in the Margaret T. Hance Park Urban Plaza on October 12 starting at 6:30 p.m.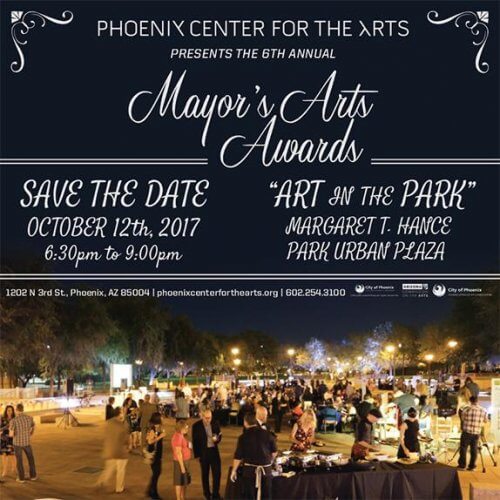 The Mayor's Arts Awards serve to identify outstanding leaders in five areas: Visual Arts, Dance/Choreography, Music/Composition, Literary Arts, and Innovative Art Organization. Nominees will be chosen based on the criteria of innovation, impact and integration. In addition, one individual will be chosen to receive the second annual Lou and Evelyn Grubb Community Innovator Award.
Nominations opened July 26 and close at the end of August. Tickets for the event will be on sale soon.
Funds raised at the Mayor's Arts Awards will directly benefit service men and women and their families through a unique partnership with the ASU Pat Tillman Veteran Center and Office for Veteran and Military Academic Engagement. Studies have shown that creative activity is an integral part of the rehabilitation process, as an outlet for stress, and as a means to stimulate brain activity.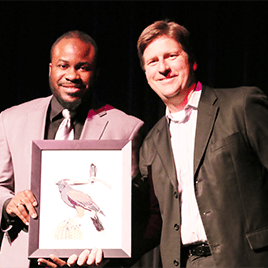 Phoenix Center for the Arts has already seen the benefits of such partnerships through its alliance with the Banner Alzheimer's Institute and seeks to further its mission to serve our diverse community, from all ages, cultures and stages of life. This amazing partnership will enable Phoenix Center for the Arts to continue providing free art workshops, tailored specifically to the needs of veterans and their families, throughout the year.
Fall classes are now open for registration. For a list of classes, visit phoenixcenterforthearts.org/classes or pick up a catalog at the Phoenix Center for the Arts front desk.
Photos courtesy of Phoenix Center for the Arts. 
---