DPJ's Wire series delivers news and information straight from the source without translation.
West Elm announced that its first Phoenix store, located at 100 E. Camelback Rd. in the revitalized Uptown Plaza shopping center, will open Thursday, June 29 at 10 a.m. The 11,000 sq. ft. location will bring approximately 30 jobs to the area. With a commitment to building communities, West Elm will curate an assortment of local products highlighting 10 Arizona-based makers and designers alongside the store's fall assortment. Additionally, West Elm at Uptown Plaza will offer West Elm Style + Service to support customers in their journey to express their personal style at home.
"In the late 1950s, Uptown Plaza stood as the harbinger of retail shopping centers, once heralded for offering customers the amenities and conveniences that were ahead of its time," said West Elm president Alex Bellos. "We are proud to be a part of the continued revitalization of this iconic mid-century modern shopping destination, and look forward to supporting Uptown Plaza's celebration of small businesses, local artists and the North Central Phoenix community."
A selection of locally made products by 10 Arizona-based makers and artisans will be a part of West Elm Phoenix at Uptown Plaza LOCAL assortment including:
• Celine + Kate: Handmade pillows and linens created with eco-friendly ink
• Chase Warren Designs: Contemporary handcrafted furniture
• Citizen Home Decor: Handmade wooden wall decor accessories
• Lettercraft: Laser cut wood gifts and decor
• MB Art Studios: Screen printed, Scandinavian-influenced ceramic pieces
• Nanogram: Laser-engraved wood accessories
• Paige Poppe: Watercolor prints inspired by the Arizona landscape
• Strange Birds Designs: Hand-designed greeting cards
• Woven by Ro: Macrame hanging wall art and planters
• Zaaina: Beauty products made with 100% natural ingredients
Prior to its restoration in 2014, Uptown Plaza was a 1950s landmark destination, rich in design with exposed brick walls and metal canopies. West Elm Phoenix pays homage to the area's mid-century modern heritage by incorporating motifs from the era into the store's architectural details, such as a sculptural assemblage that decorates the back cash wrap with a cube-in-cube pattern made from locally sourced, weathered grey poplar reclaimed from rural fencing.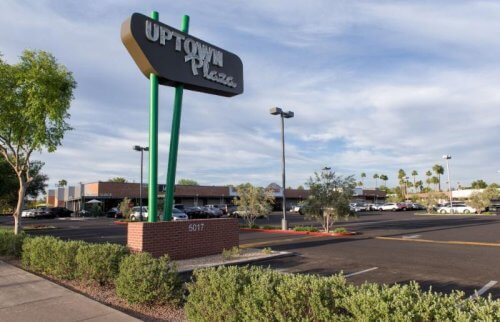 To celebrate the opening of West Elm Phoenix on Thursday, June 29, West Elm will partner with Phoenix-based artist Paige Poppe to design a limited edition tote bag presented to the first 300 shoppers with a $50 minimum purchase.
For up-to-date information on in-store promotions and events, customers are encouraged to "like" the West Elm Phoenix store on Facebook and follow the store on Instagram. West Elm Phoenix is open Sunday – Wednesday 10 a.m. – 8 p.m., and Thursday – Saturday 10 a.m. – 9 p.m. The store's address is 100 E Camelback Rd. Suite 148, Phoenix, AZ 85012 and the phone number is (602) 279-0716. Applicants interested in joining the West Elm Phoenix team are encouraged to e-mail WestElmStores@wsgc.com.
---