Meet Downtown Phoenix Journal's intern for the summer 2017 semester!
Name: Mila Suzich
Hometown: Bury St. Edmunds, England (though I was raised in Midtown Phoenix)
School, Major and Year:
I'm a senior at Arizona State University's Walter Cronkite School of Journalism and Mass Communication, majoring in digital journalism.
Why did you choose your major?
I didn't choose this major initially. Instead, I was attending Northern Arizona University's School of Communication as a photography major. After taking a single journalism class, I decided to pursue this field of communication. I've always been fond of writing — competing in creative writing competitions as a kid — but I never expected to become a journalist. I transferred to ASU's Cronkite School the semester following that class and have had the best experience thus far in pursuing journalism. I also get to incorporate my photography, which is a total plus!
What are your professional goals?
At some point in my life, I'd love to travel the world and blog about the experience. I also love fashion, so if I could document others' styles, like the "Humans of New York" series meets Vogue's "Street Style" section, it would be a dream. Until then, I plan on continuing to write for Phoenix-based publications, preferably ones like DPJ that provide a platform for all things local.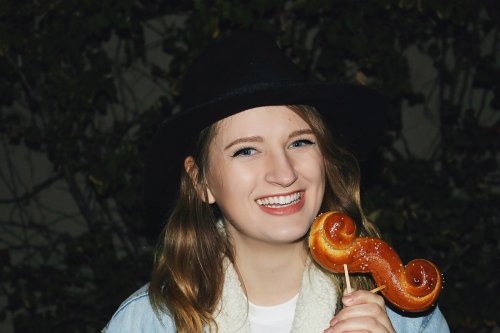 Favorite things to do when you're not working or in class:
Attending more concerts and art performances than I can afford, shooting footage of the Valley of the Sun and all it has to offer, and enjoying the Phoenix food scene.
Favorite non-academic thing to read:
Anything written by Beau Taplin, a self-published, Australian author. His style of writing is vastly complex, yet utterly simple.
Favorite thing about downtown Phoenix:
The music scene. I love having the opportunity to see major headlining acts at more intimate venues, such as Crescent Ballroom and Valley Bar, for an affordable price. Not many people get the chance to see their favorite performers in smaller spaces, so I'm incredibly thankful for promoters like Stateside Presents who bring the best to the West.
Favorite place to eat in downtown:
Most recently Crescent Ballroom, because the burritos are too good to pass up. Also, Snoh Ice Shavery's downtown location for milk tea with boba because I get a drink and meal in one — what could be better than that?
If you could have dinner with any three people (living or dead), who would you choose?
The Haim sisters. Laughs would be shared, songs would be played and food would be enjoyed.
Favorite Quote:
"Be fearlessly authentic." — Unknown
I'm excited to be working at DPJ because:
It gives me the opportunity to do what I love most — write about and take pictures of the city's offerings, from its people to its events. I'm a big supporter of all things local and I'm grateful DPJ allows me to further this support through how I will capture the city in my writing and photography during my time here.
Photos courtesy of Mila Suzich.
---