DPJ's Wire series delivers news and information straight from the source without translation.
To give visitors better access to the increasingly popular arts and culture offerings during First Fridays, Artlink Inc. redesigned the paths taken by free trolleys circling Phoenix's central core into three routes.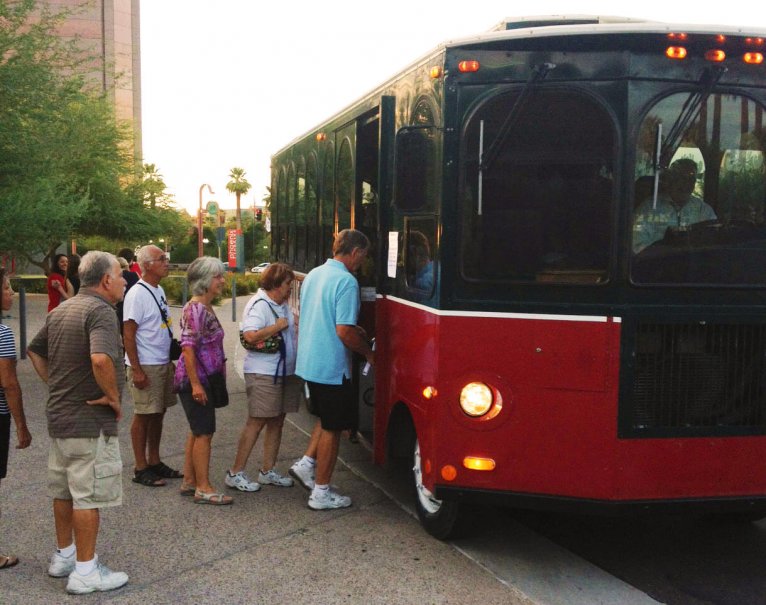 The new routes will serve the Grand Avenue, Roosevelt Row/Central Arts and Warehouse/Downtown districts, and become effective on the next First Friday, Feb. 3. They will also be accessible during Art Detour 29, March 17-19.
All three will intersect at the Connector Hub at Arizona Center, 400 E. Van Buren St., where parking will be validated for the first two hours for First Friday patrons who ride the trolley. Four other hubs also familiar to First Friday patrons will continue to pick up and drop off passengers at the Phoenix Art Museum, 1625 N. Central Ave.; Oasis on Grand, 15th and Grand Avenues; Unexpected Gallery, 734 W. Polk St.; and CityScape, 1 E. Washington St.
See a map of the new routes at www.artlinkphx.org/first-fridays.
Each trolley route offers a self-guided tour of the districts, allowing patrons to hop-on hop-off at the stops they choose. Volunteer docents staff the hub stops and the trolleys, providing information on the night's arts and culture offerings.
The trolleys run from 6 p.m. to 10 p.m. every First Friday, and each route will take about 20 minutes to travel it in its entirety. The trolleys, provided by Dunn Transportation, Artlink's official transportation partner, have been serving First Fridays for several years.
"The new routes provide First Friday patrons a direct connection to each of the districts, allowing for more time in galleries and other art spaces," said Artlink Board President Catrina Kahler. "The Connector Hub at Arizona Center allows for multiple experiences over the course of one night or multiple months. We appreciate the opportunity to support artist and art venues through the offer of discount parking on these busy nights in downtown Phoenix."
Artlink volunteers will be present at the Connector Hub at Arizona Center to validate parking for up to two hours. The two-hour validation is valued at $6 and can be applied to standard parking rates for longer periods. Nearby metered parking is also available.
The routes are now permanent for all First Fridays and also will be accessible during Art Detour 29, Artlink's annual multi-faceted exploration of the arts and culture of America's sixth-largest city and its myriad art spaces. More details about Art Detour, March 16-19, will be announced at www.artdetour.com.
Image courtesy of Artlink Inc. 
Ed Note: DPJ publisher Catrina Kahler is President of Artlink Inc.
---