Meet Downtown Phoenix Journal's intern for the spring 2017 semester!
Name: Nicole Gimpl
Hometown: Mesa, AZ
School, Major and Year:
I never know how to answer the "year" question. It's my second year at The Walter Cronkite School of Journalism and Mass Communication at Arizona State University but with credits from high school and classes I've taken, I'm technically a junior. I get to graduate a year early though so that's exciting!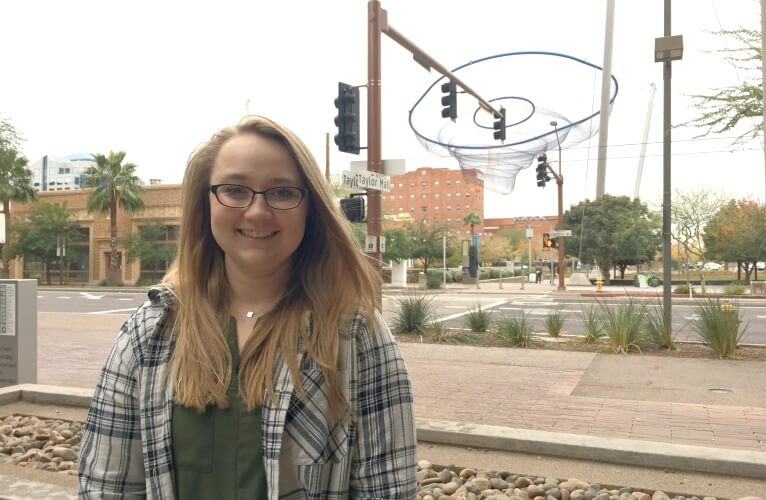 Why did you choose your major?
I've always known I wanted to be a writer. I could never pinpoint what kind of writer I wanted to be "when I grew up." Then, when I was in high school I decided to try out writing for our high school magazine. As it turned out I was a pretty good journalist – according to everyone involved. So my journalism advisor had me apply to the Summer Journalism Institute at the Cronkite School. I got in, loved every second of the two weeks I was there and I applied to be a journalism major in the beginning of that fall. When I look back now I realize that in most of my favorite movies, a lead character was a journalist: When Harry Met Sally, Sleepless in Seattle, 13 Going on 30, Never Been Kissed, etc. It's a pretty crazy coincidence.
What are your professional goals?
Somewhere down the line I would like to work for Sunset Magazine. Their focus is the Southwest which is my absolute favorite part of America – I'm a little biased here because I was born and raised here. I would love to travel around writing about what makes this region so wonderful. That's the dream.
What are your favorite things to do when you're not working or in class?
My favorite things to do when I'm not working or in class… let's see. Admittedly, I love online shopping. It's a terrible habit but I enjoy it. It's like ordering presents for myself and having something to grab from my mailbox that isn't an ad or coupons. Other than that, I watch Parks and Recreation on Netflix, watch the whole series and watch The Office. I've seen each show more than four times all the way through at this point.
What is your favorite non-academic thing to read?
My favorite non-academic thing to read is probably the Twilight books. I haven't read them in a while but they were such a large part of my adolescence. I can't say childhood because I didn't get into them until I was 13. They're nice comfort objects. My life has kind of become hectic what with college and work and now this internship. Somethings come at me unexpectedly. It's nice having something that's the same all the time. I can go back to it and know what's going to happen every time. No surprises.
If you could have dinner with any three people (living or dead), who would you choose?
The three people I would most want to have dinner with are FDR, Lorde and Barbara Walters.
Favorite Quote:
"Wanting to be someone else is a waste of the person you are." – Kurt Cobain
What is your favorite thing about downtown Phoenix?
My favorite thing about downtown Phoenix is the atmosphere. That's kind of a broad term to use, but there isn't one single thing I like about downtown more than another. I lived in the suburbs all my life and being down here shows me that's not the way I want to live. I love that everyone lives closer together, forming close friendships in shared spaces and sharing ideas about how to make the city better. Downtown has changed a lot and there's still a long way to go. The atmosphere that surrounds the city is the perfect way to get where we want to be.
Where is your favorite place to eat in downtown?
My favorite place to eat is Fàme Caffe (which is actually in Uptown.) I haven't gotten down there for lunch yet, but everything they make for breakfast there is perfect. I never have much of an appetite in the morning so I almost always get the Dos. It's two eggs, toast and some potatoes, and it's delicious.
Why are you excited to intern at DPJ?
I'm excited to intern at DPJ because I know I'm going to help build something great for downtown Phoenix. DPJ is a great resource for people who want to know what's going on down here whether it be a local art show or new restaurant opening. I know I won't be one of those interns running to get coffee or file papers like at bigger companies. Here, I can build my internship in a way that I can come out of it with all the skills I want and need for my future. There's so much opportunity for experimentation at DPJ. It's an amazing opportunity that I am so thankful for.
---