DPJ's Wire series delivers news and information straight from the source without translation.
Join Phoenix College for their Food Day festivities on Wednesday, October 26 beginning at 9:00 a.m. with events running throughout the day.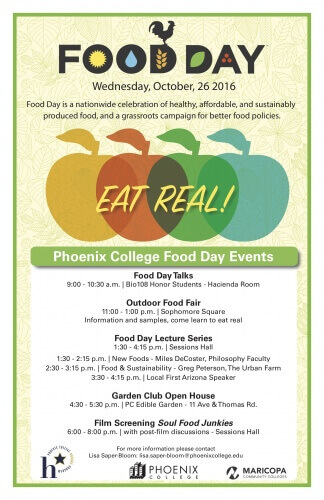 Food Day is a nationwide celebration of healthy, affordable and sustainably produced food, and a grassroots campaign for better food policies.
The full lineup is listed below. Events are scheduled throughout the campus, located at 1202 W. Thomas Rd. All events are free and open to the public.
Food Day Talks
9:00-10:30 a.m.: Bio108 Honor Students – Hacienda Room
Outdoor Food Fair
11:00 a.m.-1:00 p.m.: Sophomore Square
Information and samples, come learn to eat real
Food Day Lecture Series
1:30 – 4:15 p.m. at Sessions Hall
1:30 – 2:15 p.m.: New Foods – Miles DeCoster, Philosophy Faculty
2:30 – 3:15 p.m.: Food & Sustainability – Greg Peterson, The Urban Farm
3:30 – 4:15 p.m.: Local First Arizona Speaker
Garden Club Open House
4:30 – 5:30 p.m.: PC Edible Garden – 11th Ave. & Thomas Rd.
Film Screening
6:00 – 8:00 p.m.: "Soul Food Junkies" – Sessions Hall
Images courtesy of Phoenix College.
---