DPJ's Urban Form series looks at the interplay between movement and surroundings through the lens of dancers and architecture in downtown Phoenix.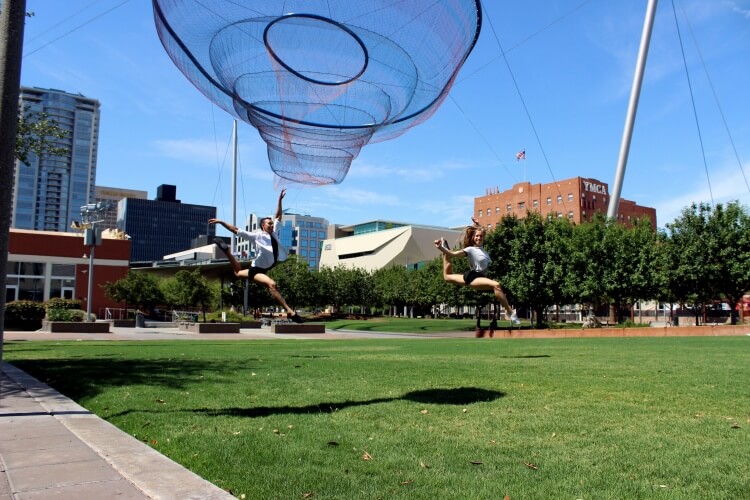 "Be engaged, adventurous, and kind. Like the light we've made and the light that find us, stimulate and make visible." – Ashley
Civic Space Park, just north of Van Buren Street, between Central and 1st Avenues, is known for its green space and its signature netted sculpture, Janet Echelman's Her Secret is Patience, which burns bright in the heat of our summer nights.
This space is defined not only by the large structure resembling a vortex high above the valley sky, but also by the many community projects and events it regularly houses. From outdoor yoga to movies in the park, city dwellers have many opportunities to enjoy the interplay between its artistic architectural innovation and its beckoning foliage. This is where city park meets transit center, all framed within an homage to space and light. 
On this day, dancers James Flores and Jordyn Siegfried were gleaming with joy and pride for this city. Others enjoying the park watched as they flew across soft grass, reaching for the tip of that iconic structure behind them.
A gentleman approached us with true interest for what was happening. He told us of his connection to this place; how he had wanted to be a dancer, but could never find a style that fit him. It was sharing this moment with a man I had never met before, discussing the potential of our city and the arts that reminded me of the heart of phoenix. Even through growing pains and change in downtown, Phoenix is bursting with love for the people who create within it, share in laughter, contemplate what they want to do there and how this can be attained.   
---