School is starting this month for those in college, and has already begun for the high school kids. If you have yet to get started on your back to school (or just general fall fashion) shopping, here are a few easy trends that will make you effortlessly stylish.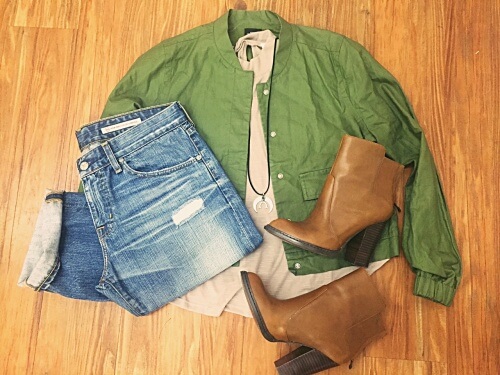 Today we are talking about:
-The Boyfriend Jean
– The classic ankle bootie
– Flowy basic tank or tee
– The Military jacket (cropped and full length)
– And a simple statement necklace
These simple staples are easily interchangeable, allowing you to get the most out of your new wardrobe, or are easily paired with any old favorite pieces that you'd want to mix and match!
Here are a few of our picks for these fall style must-haves:
Basic flowy tanks with a simple statement necklace from Bunky Boutique.
The classic boyfriend jean that you can pair with just about anything: heels when you're going out on the town, a cute ankle length bootie when you're running off to class, or even with an easy slip-on sandal when you're out running errands. And with these jeans, the more ripped up the better!
A classic pair of ankle booties that go perfectly with everything.
Military jackets, whether cropped or full-length, are an easy and fashionable way to stay warm when that cool fall air finally arrives in Phoenix (or in the meantime, in our overly air conditioned buildings!)
With these five easy finds, you will be back to school or business in style and looking simply fabulous for the new season!
Images by Samantha Perry, unless otherwise noted.
---