Peanut butter and jelly, bacon and eggs, comedy and hot dogs. OK, maybe that last one hasn't forged an indivisible partnership just yet, but that could change come this Saturday.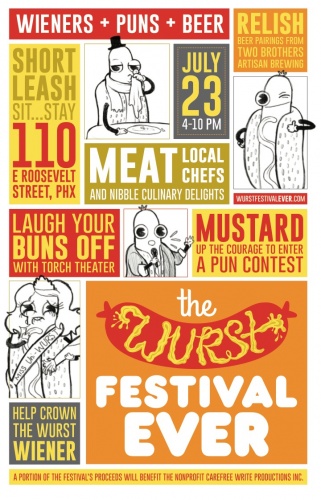 The inaugural Wurst Festival Ever will take place on National Hot Dog Day, this Saturday, July 23 from 5-10 p.m. at Short Leash Hot Dog's Roosevelt Row location and will feature the ultimate trifecta of "wieners, puns and beers."
Bring your appetite and your sense of humor because this comedy and hot dog fest includes a hot dog topping contest, a pun competition, comedy performances from The Torch Theatre and Anwar Newton's "Literally The Worst Show Ever," and hot dog creations from local chefs. Oh and beer – don't forget the beer.
A portion of the proceeds from the event will benefit The Torch Theatre's continued development of local comedy talent.
The Wurst Festival Ever's line up will roll like this:
5 p.m.: Buns & Puns to the ready…
6 p.m.: Torch Theatre Presents: The Neighborhood
7 p.m.: "Sun's Out Puns Out" Arizona's first Pun competition
8 p.m.: Literally The Worst Show Ever. Featuring Anwar Newton
If You Go
The Wurst Festival Ever
Where: Short Leash Sit . . . Stay, 110 E. Roosevelt Street.
When: Saturday, July 23 from 5 – 10 p.m.
More Info: Find event details here or RSVP on Facebook.
Images courtesy of Wurst Festival Ever.
---