Our Phoenix Discovered series (PhD for short) shares essential insight into downtown by introducing people and places that define our unique culture.
Reanna Diehl, otherwise known as Miss Missconstrued, is a name synonymous with the Phoenix art scene. She is the owner of Missconstrued, a downtown Phoenix boutique, gallery, salon and tattoo studio. Recognized for her hard work, determination and talent in the business world, Diehl has transformed her passion to create into a multi-faceted business model and collective that supports not only herself and her family, but an entire team of artists, both local and national.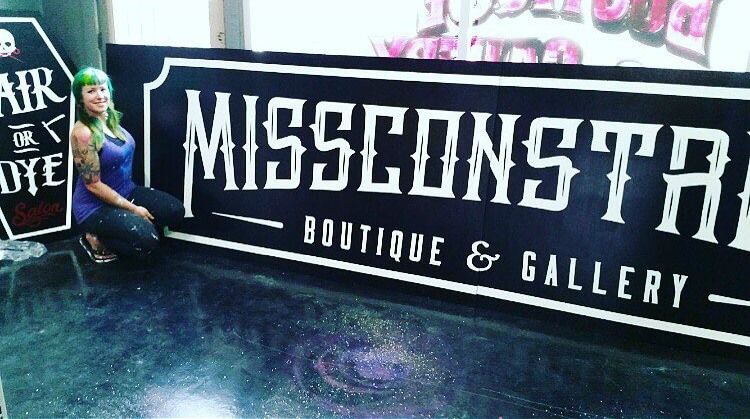 From her humble beginnings on Roosevelt Row over five years ago, Diehl squeezed her and her team into half of a duplex home she described as a "bubble gum colored sardine can" between MELT and Lost Leaf on 5th street. Event after event, they packed and unpacked their merchandise, loaded and unloaded, set up and tore down, carted, toted, hauled and just plain made it happen day after day. Through all this, Diehl kept her team motivated and ever optimistic as she carefully constructed her dream piece by piece, only to see her hard work become a reality through sheer will.
As Missconstrued has grown, so has their need for more space to keep the momentum going. Diehl has spent every waking moment and probably a few sleepy ones, on the build out of her new space on Grand Avenue.  From getting rid of graffiti, to clearing rubble, to hammering concrete or installing padlocks, Diehl is doing it all, with the help of her friends, her team and her family of course.  But now that the construction has an end in sight, Diehl says she can, "start to focus on my artwork again."
The Grand Avenue location of Misscontrued Boutique and Gallery will expand on their initial success. It will feature a collective of local and national artists with access to an artist show space and gallery showcasing work in a variety of mediums ranging from fine art canvas paintings and prints to any number and styles of fashion and wearable designs. The space also features Hair or Dye Salon, a fully functional modern salon that is currently accepting appointments, as well as a warehouse space which will hold inventory and all the tools used to create Diehl's brand. The final component of the collective will be the tattoo shop offering some of the best artists that Arizona has to offer.
The grand opening is scheduled for the Third Friday in October, so if you haven't already peeked your head in to see what's going on, be sure to stop by then and get a glimpse of what Diehl and her team have been up to. Missconstrued Boutique and Gallery will be open seven days a week and is located in the Arts District Plaza at the intersection of Roosevelt and Grand Avenue. More info at on Missconstrued's website.
---