Downtown Phoenix is about to add another hotel to its collection – but it won't be just another place to drop your bags. Opening late summer, the FOUND:RE Phoenix will occupy the former Lexington Hotel building at 1100 N. Central Ave. and will be a destination in itself, for travelers and locals alike.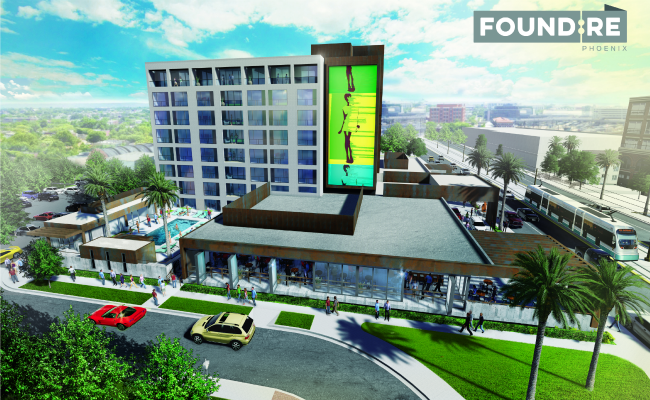 The FOUND:RE will put Phoenix's creativity on display with infusions of our local art, culture and food scenes. The work of local artists will be included in every aspect of the property, from the hotel's decor to the on-site art gallery to the numbers marking each of the 105 guest rooms. The globally-inspired street food offered in the hotel's restaurant, MATCH Cuisine & Cocktails, will be created almost entirely from local products.
The hotel's tag line, "Find Yourself" (which will be emblazoned on the front of the building in neon), alludes to the sense of discovery they want guests to experience. Their ethos of specially curated art, cuisine, and cultural offerings ensures that the FOUND:RE will constantly serve up new ways to take in Phoenix's unique creative culture.
The property is being developed by Habitat Metro, the same local developers behind the neighboring Portland Place and Portland on the Park condominiums. BOND Partners is also involved in the project, bringing their expertise as developers of unique lifestyle hotels and resorts. The FOUND:RE is an affiliate of Worldhotels, a global group for independent upscale hotels.
Renovations began in fall of 2015 and as construction continues, we were invited to take a peek at how things are taking shape. Below are some current and future images of what the FOUND:RE's creators hope will become "a great hometown space for Phoenix."
Photos by Courtney McCune
Renderings courtesy of J Public Relations.
---