DPJ's Wire series delivers news and information straight from the source without translation.
Multimodal Street Modifications Study Begins for 3rd and 5th Avenues
The city of Phoenix Street Transportation Department is beginning a pre-design and feasibility study for potential multimodal street modifications to Third and Fifth avenues, between McDowell Road and Washington Street.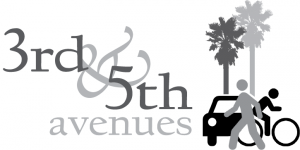 Meetings began this week to obtain advice and insight from stakeholders with knowledge of the study area. During the week of May 9 the community is invited to participate directly in the design process to help to identify goals and objectives for the project and explore potential design alternatives. 
May 9-11 Design Charrette
A three-day community "charrette" will take place May 9 through May 11 from 8 a.m. to 8 p.m. at the Mercado, ASU Downtown Phoenix Campus, 502 E. Monroe St., Building C, Room 125. A charrette is an open design studio where anyone who is interested can drop in at any time throughout the event and provide input. Public open house sessions are scheduled to summarize and show work in progress on Monday, May 9 and Wednesday, May 11 from 4:30 p.m. to 6:30 p.m.  
Photo Voice Survey
As part of the project, the city is offering an opportunity for people to take up to three photos that capture what they feel is important about these streets and submit the photos, along with descriptive captions, to the project website in advance of the charrette. The deadline for uploading photos is 5 p.m. on Sunday, May 8. Please visit 3rdand5thave.com to participate. 
Project Background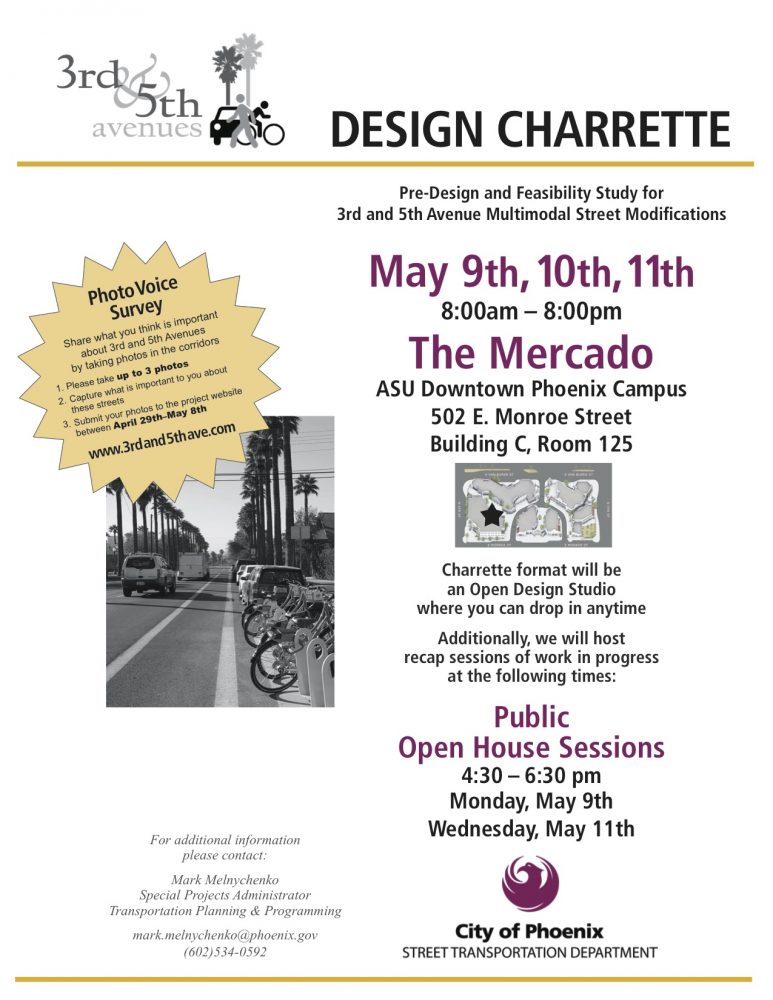 This project was identified as a Phase I priority in the Phoenix Comprehensive Downtown Transportation Study, completed in 2014. The upcoming design charrette is being held to engage the public in an evaluation of potential designs, taking into account the needs of all modes of travel (pedestrian, bicycle, transit and personal vehicles), and addressing specific neighborhood concerns. A range of design alternatives will be explored for both Third and Fifth avenues with a focus on improving safety and mobility while at the same time supporting historic preservation and economic development. Prior to completing the feasibility study, which is scheduled to be completed by early fall, a community open house will be held late this summer to provide an opportunity for the public to consider and compare design drawings of project alternatives.
For more information about this study, please visit the project webpage at 3rdand5thave.com or contact Mark Melnychenko at 602-534-0592 or mark.melnychenko@phoenix.gov.
Follow this project via Twitter using the hashtag #3rd&5thAves.
---