DPJ's Wire series delivers news and information straight from the source without translation.
COME CELEBRATE THE 5TH ANNUAL "INTERNATIONAL JAZZ DAY" AT CITYSCAPE
Outdoor concert is one of 196 global celebrations taking place on April 30
INTERNATIONAL JAZZ DAY AZ FOUNDATION CONCERT FEATURES THE BEST OF "REAL JAZZ"
Downtown Phoenix joins more than 196 global Jazz Day celebrations on April 30, the date officially designated by the United Nations Educational, Scientific and Cultural Organization (UNESCO) to celebrate jazz and the role it plays in uniting people around the world.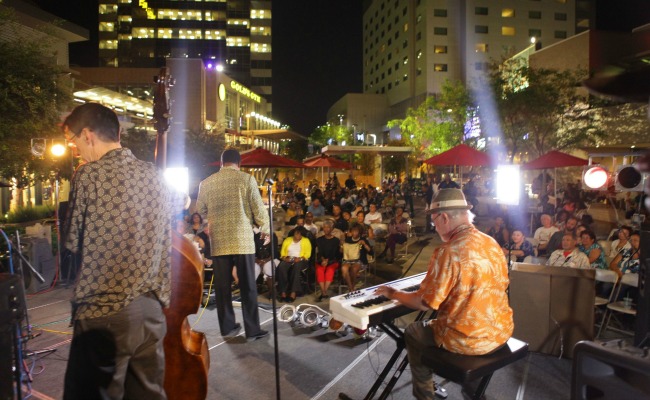 Arizona's own lucky charm trumpeter Jesse McGuire headlines this year's jazz event. Famous for his execution of the Star Spangled Banner, Jesse McGuire has performed for three U.S. presidents, and at many major sporting events, including most notably game seven of the 2001 World Series when the Arizona Diamondbacks defeated the New York Yankees to bring home a victory. 
FEATURED PERFORMERS:
Nayo Jones – Mentored by her father Doc Jones, jazz vocalist Nayo is a rising star who has opened for jazz greats such as Chris Botti, Otis and The Temptations, The Whispers and Lakeside.
Dowell Davis – known as "D"

to his fellow players, Davis has graced national and international stages with his drumming since 1983. He's an accomplished artist who has played a variety of musical styles, and has an innate understanding of grooving.

Dan Pinson- Born in Phoenix, he has appeared with or opened for Stevie Wonder, Spyrogyra, The Temptations, Beach Boys, Gato Barbieri, Pinson has performed in venues around the world.
Carlos Rivas – International Latino jazz artist who has performed throughout the world. He is founder and director of Mex-Sal, one of Arizona's most prestigious Latin groups.
Kerry Campbell – Jazz saxophonist and former member of The Dramatics and famed band War, Campbell has performed with jazz greats Herbie Hancock, George Duke, Joe Sample among others. 
Ioannis Goudelis – Pianist

Ioannis Goudelis has performed internationally at festivals, clubs and concert halls throughout the world including the most of the United States, Europe, Africa, Central America and the Pacific.

William "Doc" Jones – Jazz saxophonist, keyboard artist, founder of NextStudent Academy and Jaz Day AZ, Doc Jones has performed with Aretha Franklin and The Temptations among others.
WHEN / WHERE:
Saturday, April 30, 4 to 10 p.m.
CityScape at 1 East Washington Street, Phoenix, AZ 85004
COST /PUBLIC CONTACT:
General Admission – $20 at the gate
VIP Seating will be available – $100
Tickets can be purchased at gate, or in advance at www.ticketlobster.com or by calling (602) 268-0600.
Proceeds support the NextStudent Academy, a local 501(c)(3) organization that works with local schools to make jazz music education and instruments available and accessible to students from kindergarten through college.  For more information or to make a donation, visit www.nextstudentmusic.com or (602) 524-7998.
---