The growing Uptown Phoenix restaurant scene will expand once again when Cold Beers & Cheeseburgers opens at 7th Street and Missouri this fall.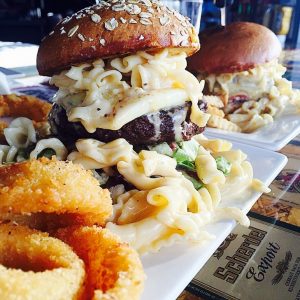 With four existing Valley locations, the new Cold Beers & Cheeseburgers at 5725 N 7th Street will be the first for Phoenix. Scottsdale-based Square One Concepts, the company behind popular Valley spots like Martini Ranch and Wasted Grain, currently has three locations in Scottsdale as well as one in Chandler.
Uptown Awakening
"The whole seventh street corridor has really come on as a new dining and entertainment area," said Barrett Rinzler, CEO of Square One Concepts.
"There's lot of synergy down there," Rinzler said.
In recent years, Uptown Phoenix has seen an increase in the number of restaurants and eateries coming to the area.
The Yard, featuring Culinary Dropout, was one of the first restaurants to come to the area, leading the way for other considerable redevelopments along the Seventh Street corridor. Cold Beers & Cheeseburgers will be located just steps away from The Yard, and in close proximity to Spinato's Pizzeria's flagship location and Pita Jungle's largest valley location.
Cold Beers & Cheeseburgers in Uptown will share the same extensive scratch-made menu as its other Valley locations. Everything at the restaurant is made in-house, including dressings and sauces, and according to Rinzler, this sets the establishment apart.
"We didn't want to just be what everybody else does," Rinzler said. "What differentiates us from someone else is our meat is always fresh, never frozen and we patty every burger in house."
"The chef even makes his own mayonnaise," Rinzler said.
Award-Winning Scratch-Made Menu Items
Besides its award-winning mac and cheese, quarter-pound charbroiled hot dog and burgers, the menu features dozens of appetizers. Guests can expect items like grilled asparagus with olive oil, buffalo chicken egg rolls, soft pretzels, sliders, wings and more.
Rinzler said the new location will also continue with its "Mac Daddy Monday" special, which allows guests to build their own mac and cheese or burger for a fixed price, depending on the day.
There will also be a full bar with wine, liquor and beer, as well as what Rinzler says is one of the best audio-video packages of anybody. Cold Beers & Cheeseburgers will feature multiple flat screen TVs on nearly every wall inside and outside the space.
"It's a great place to watch sports," Rinzler said.
In addition to the Uptown location, a sixth Cold Beers & Cheeseburgers is also slated to open in San Diego's Gaslamp District this year.
Photos courtesy of Square One Concepts.
---