DPJ's Wire series delivers news and information straight from the source without translation.
Pterodactyl Holdings Sells 34,798 sf Development Site in Downtown Phoenix to Arizona Board of Regents
Cushman & Wakefield Represents Seller in Land Transaction
Cushman & Wakefield announced today that the Arizona Board of Regents acquired 34,798 square feet (sf) of land at 1st Avenue, near Fillmore Street, from Pterodactyl Holdings (Phoenix), LLC for $4.65 million.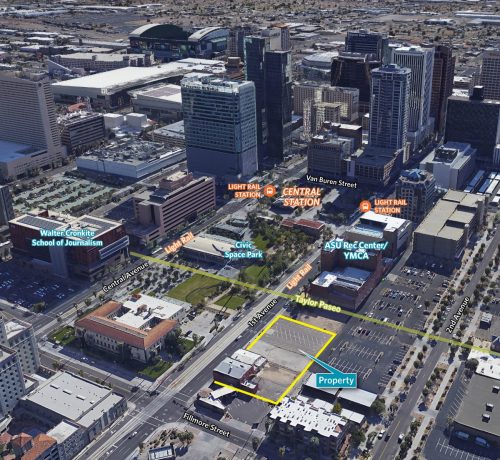 The Cushman & Wakefield team of Brent Moser, Mike Sutton and Brooks Griffith represented Pterodactyl Holdings (Phoenix), LLC in the transaction. The 1st Avenue/Fillmore Street assignment generated numerous offers within days of marketing commencement from groups looking to build high-rise student housing, conventional apartments, condominiums and micro-housing units. With proximity to central station along with ASU's downtown Phoenix campus, the site offers unmatched walkability to jobs, mass transit and urban core amenities.
"The Arizona Board of Regents has not yet disclosed how it's going to use the newly acquired land but with the parcel being in excellent proximity to the existing ASU downtown campus, located across from the Civic Space Park and just north of the downtown YMCA, we could see future expansion," said Brent Moser, Executive Managing Director.
Photo courtesy of Cushman & Wakefield.
---