DPJ's Wire series delivers news and information straight from the source without translation.
Mayor Stanton Statement on Demolition of Stewart Motor Company Building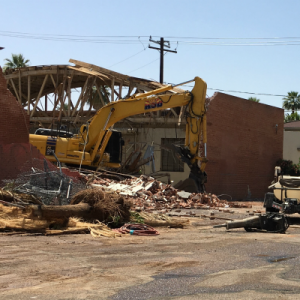 Mayor Greg Stanton released the following statement in response to developers starting demolition earlier today of the Stewart Motor Company Building on Central Avenue and McKinley Street:
"I am angry that in the middle of negotiating a plan to save the iconic Stewart Motor Company building, the developer began demolition. After my office participated in discussions between the developer and neighborhood leaders, I was confident that a resolution would be found. However, sadly, it appears that the developer was acting in bad faith."
BACKGROUND:
The City's Community and Economic Development Department was in the middle of discussions with the developer, Empire Group.  Some of the agreed terms of the discussion stated that the developer would not demolish or remove any portion of the existing building on the Site prior to submitting for construction permits. Empire has plans to build a 19-story apartment building on the 1.24-acre site.
---