Third Friday kicks off this weekend's annual Art Detour 28 in downtown Phoenix. Here are a few exhibits you can expect to see tonight, before the artists open their doors and let you into their studios for a glimpse behind the scenes. More info on Third Friday and Art Detour can be found here.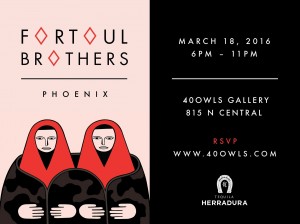 Fortoul Brothers :: Phoenix
Gabriel and Isaac bring their pure and prolific style to downtown for a night of delving deep into the meaning of human existence. Displayed through a variety of mediums ranging from large scale paintings, to sculpture, to installation, their work combines, "… every day observation with mystical symbolism" and reflects the expressive truths behind the creative spirit. Located at 815 N Central and open from 6 p.m. – 12 a.m. RSVP for free at 40Owls.com. 
In Sight: An Ekphrastic Collaboration
This unique show brings together 11 artists and 11 writers in a multi-faceted performance exhibit on display at Eye Lounge. The final product of the artist collaboration is realized in the form of a 128-page book from Four Chambers Press, filled with color images, short stories, poems and more. Eye Lounge is located at 419 E. Roosevelt and is open from 6-10 p.m. For more info, visit the Four Chambers website.
The End Is Near
Join a whole lot of artists for what might be one of the final shows at the iconic Firehouse Gallery in the heart of the Downtown Arts District. With more than a decade of comedy shows, alternative performances, toy shows, art exhibits and more, you won't want to miss this show from one of the defining galleries along Roosevelt Row. Located at 1015 N. 1st and open from 6-11 p.m. Find more info here.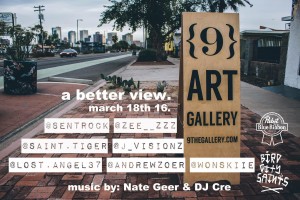 A Better View
Presented by 9 the Gallery and Bird City Saints, this legendary crew flys back to Phoenix for a weekend fine art, live art, live music and a lot more. Check out the new mural being completed this Friday and meet the artist, Joseph 'Sentrock' Perez. Located at 1229 Grand Ave from 6-9 p.m. More info at Birdcitysiants.com. 
Grand ArtHaus Preview
This preview will be the first glimpse inside of the highly anticipated new gallery space hitting Grand Avenue.  Join creator, Robert Gentile for a tour of the space and artist, Aileen Frick as she signs limited edition copies of the Art Detour 28 festival cover image. Located at 1501 Grand Ave, from 6-10 p.m. 
---