Since April 2014, DPJ has been sharing the story of the developing proposal for a Roosevelt area Enhanced Municipal Services District, more commonly known as a Business Improvement District or BID. Previous articles can be found here.
Over the past 18 months, the Roosevelt Row community has been engaged in the process of forming a business improvement district (BID), which would provide enhanced municipal services for the area. Though the proposal for the BID passed the Phoenix City Council in January, it is now in danger of being invalidated due to a bill that is advancing in the state legislature.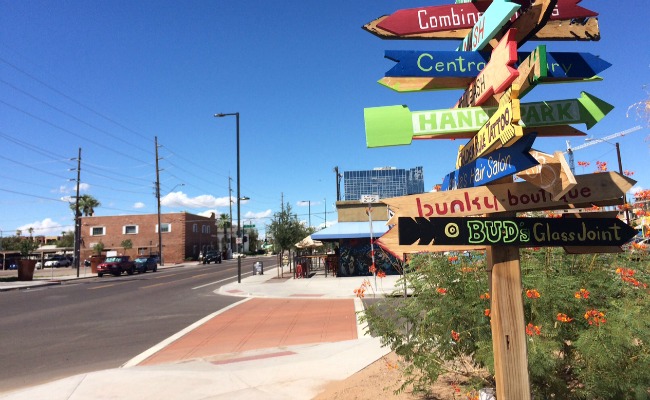 HB 2440 would essentially change the process for the formation of BIDs – not just in Phoenix, but across the state. If passed, it would incorporate more government oversight into the process and would be retroactive to January 1, 2016. The bill is sponsored by Representative Warren Petersen of Gilbert and is supported by a group of Roosevelt Row land owners who oppose the formation of the BID. The bill passed the House this week and is now on its way to the Senate.
Earlier in the week, Roosevelt Row CDC sent a letter to Roosevelt business owners informing them about the bill. The letter is excerpted here:
"Dear Roosevelt Row Business Owner,
As many of you are aware, the Phoenix City Council recently approved the formation of a business improvement district for our Roosevelt Row area. That vote gives us the opportunity to create an organization that represents us, the small business owners of Roosevelt Row, to collectively market our area as an evolving canvas of creativity. By forming this district we will be able to promote arts, music, dining and shopping opportunities which will increase business and community awareness of Roosevelt Row as a culturally diverse destination welcoming to everyone.
To be clear, the Council's vote to approve the District is contingent upon us working together to develop by-laws and a budget which reflects our priorities in a fiscally responsible manner. Once those documents are completed the City Council will then review, modify, and/or approve what we submit.
While we are currently in the process of developing those items (budget and by-laws), a lobbying firm, which recently purchased a building on Roosevelt Row, is using its influence to retroactively stop our district from being formed and essentially prohibiting any future Business Improvement Districts from ever being organized again. Public Policy Partners, a lobbying firm owned and operated in part by lobbyist Marcus Dell'Artino, has successfully gotten a Gilbert lawmaker to introduce House Bill 2440, which would essentially prohibit any types of these organizations from ever being organized again anywhere in Arizona! And the bill is retroactively dated to the date our district was approved by Phoenix City Council.
Currently business improvement districts are successfully operating in Downtown Phoenix, Tempe, Mesa, Chandler, Tucson and Flagstaff – they have been highly effective in revitalizing these urban core areas by recruiting, retaining and expanding locally-owned and independently operated small businesses and promoting these areas as unique cultural, artistic and commercial destinations. They have proven to be powerful economic engines to spur business and job growth."
If you agree with the Roosevelt Row CDC and would like to voice your support for the BID, follow this link to contact members of the Arizona Legislature: http://www.rooseveltrow.org/save-roosevelt-row/
---