DPJ's Wire series delivers news and information straight from the source without translation.
Phoenix Light Rail Extensions Accelerate With Implementation of T2050
Just imagine, by 2023, you will be able to board Valley Metro Rail from Baseline Road, travel to a concert at Talking Stick Resort Arena in downtown Phoenix and complete the evening in north Phoenix at destinations around Metrocenter Mall. A major north-south rail connection will be in service sooner as Phoenix takes its first official steps to implement Transportation 2050 (T2050), a 35-year, multi-modal transportation plan approved by Phoenix voters in August 2015.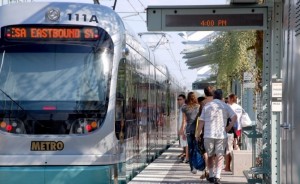 Today, the Phoenix City Council approved accelerating segments of the future high-capacity/light rail transit system to advance into the Regional Transportation Plan. These changes will be forwarded to the Valley Metro Boards of Directors and the Maricopa Association of Governments Regional Council for additional discussion and final adoption into the plan this summer.
"Because Phoenix voters made a historic investment in public transit, we're able to accelerate high-capacity transit projects to meet more immediate community and mobility needs," said Phoenix Mayor Greg Stanton. "The adjustments to the transportation plan are critically important to further the city's economic development, sustainability and accessibility goals."
High-capacity transit program updates include:
South Central Light Rail Extension (Baseline Road to downtown Phoenix) to accelerate by 11 years, opening in 2023; currently scheduled for 2034

In addition, the Council recommended that the project be prepared for a federal grant submittal for inclusion in the FY18 President's budget.

Northwest Phase II Light Rail Extension (Dunlap Avenue to Metrocenter) to accelerate by three years, opening in 2023; currently scheduled for 2026

Capitol I-10 West Light Rail Extension to be phased with Phase I to the State Capitol opening in 2023; Phase II to 79th Avenue and I-10 opening in 2030

Initiate a process to develop an early action light rail business assistance program.
The Council vote follows recommendations by the City of Phoenix Transportation and Infrastructure Subcommittee and the Citizens Transportation Commission (CTC). The CTC was created to ensure accountability and oversight of the Transportation 2050 (T2050) plan.
"This is the first step of many by the Citizens Transportation Commission to ensure the best appropriation of T2050 funds," said CTC Chair and former U.S. Congressman Ed Pastor. "We will continue to make recommendations to address street and public transit needs for generations to come."
---