DPJ's Wire series delivers news and information straight from the source without translation.
Smooth Sounds, Drink Special Among Offerings at Upcoming Nobuo at Teeter House Garden Session Series
Newly Formed Nanami Ozone to Take Stage at One-Night Only Event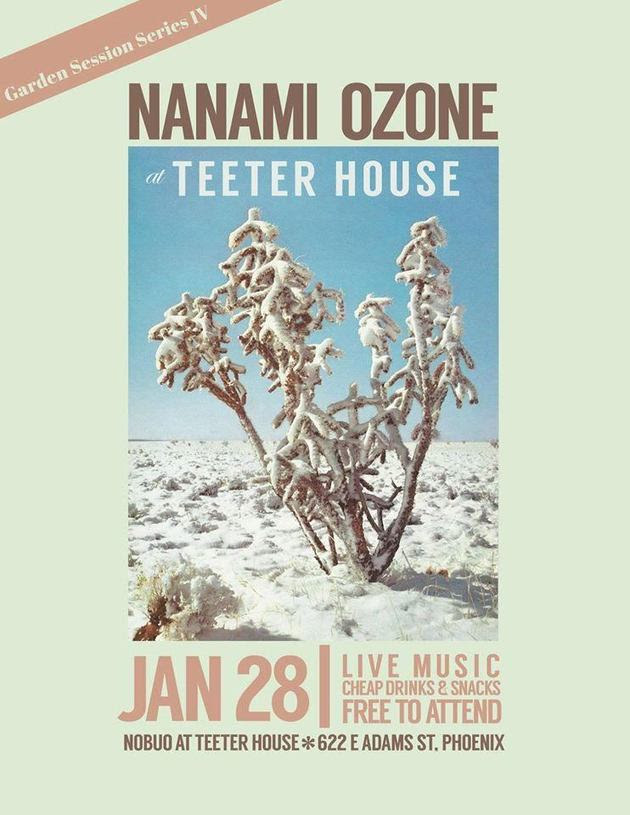 What happens when you mix musicians from three lauded local bands with some smooth sounds, cheap snacks and low-cost libations? You've got the latest installment of Nobuo at Teeter House's incomparable Garden Session Series, a free-to-attend event encompassing some of the best of the Valley's music, dining and spirits scenes.
Set for 6:30 pm – 8:30 pm Thursday, Jan. 28, 2016, at 622 E Adams St. in Phoenix, the latest edition of the acclaimed Japanese eatery's Garden Session Series boasts the musical stylings of the recently formed Nanami Ozone quartet, featuring musicians from Numb Bats, Thin Bloods and Sun Ghost. Characterized by hypnotic vocals, low-key drum beats and smooth guitar sounds, the band boasts an indescribable sound that must be heard in person to be truly appreciated.
As with all installments of Nobuo's immensely popular Garden Session Series, admission is free, and no drinks or snacks are priced above $10. Seating is, as always, extremely limited for the Garden Series' special events, so reserve a spot for this one-night only musical mashup and drinking and dining experience today by calling 602.254.0600.
What: Nobuo at Teeter House's Garden Session Series Featuring Nanami Ozone
When: 6:30 pm – 8:30 pm Thursday, Jan. 28, 2016
Where: Nobuo at Teeter House – 622 E Adams St, Phoenix, AZ 85004
Reservations: Seating is limited. Call 602.254.0600 for reservations.
---