DPJ's Counter Culture series looks at downtown Phoenix dining from the best seat in the house: the bar stool, where unique connections and sensory experiences converge like no other place in the room.
"It's almost like you get to put on a show," he says. "You get to smile and do what you love to do."
Watching Devan Cunningham artfully sprinkle salt on fried chicken skin is more captivating than it sounds when sitting behind the counter at the larder + the delta in downtown Phoenix.
One of six small eateries in the DeSoto Central Market at 915 N Central Avenue, the larder + the delta has already left its mark on the downtown Phoenix food scene after only eight months. And while the Southern-inspired food indeed lives up to the rave reviews, the dining experience is made complete by taking a seat at one of the six red industrial chairs that hug the wooden counter.
Cunningham reaches to grab the jalapeno slaw. Clearly focused on the task, he seems to place the tangy shredded mixture atop the crisp fried skin with careful precision. It's clear he takes pride in his craft, and as the son of a professional cook it's not surprising.
In his home state of California, Cunningham grew up cooking with his mother. From the time he was in fourth or fifth grade, Cunningham's mother had cooked professionally and eventually owned more than one restaurant over the years. After cutting his teeth at his mother's restaurant in Riverside County, Cunningham, 25, worked at various restaurants in California before feeling like he needed to "switch gears."
At the time, his younger sister was studying at ASU's main campus in Tempe. She told him he should move to Arizona. So he did… on three hours notice.
"I was just going for it," he says. "I trusted myself and my talents."
After getting his feet wet in the Arizona restaurant scene at Squid Ink, House of Tricks and the Windsor, Cunningham joined Chef Stephen Jones' "kitchen brigade" as  "pot and pan banger" at the Southern style eatery in downtown Phoenix—the larder + the delta.
The brainchild of Jones, a well-known local chef, the larder + the delta offers diners a rich sensory experience.
The counter-style seating is much like its menu: an imaginative mash-up of unexpected styles. From a distance, the juxtaposition of white glossy tiles and the warmth of exposed brick walls draws diners in—the different textures of these surfaces framing the large wooden island where all of the prep work, plating and action takes place.
While many diners order their food and sit elsewhere within the DeSoto, those who choose to sit at the larder + the delta's counter are rewarded.
Black bold lettering with the message "make it nice" provides another unexpected contrast on the larder's east tile wall. And as you're drawn in closer to see what Cunningham and his colleagues are creating as they chop celery, fry cauliflower and plate 'low country perlou,' you're greeted with low-hanging rustic light fixtures, a Maneki-necko 'lucky' Japanese cat, and smiling faces.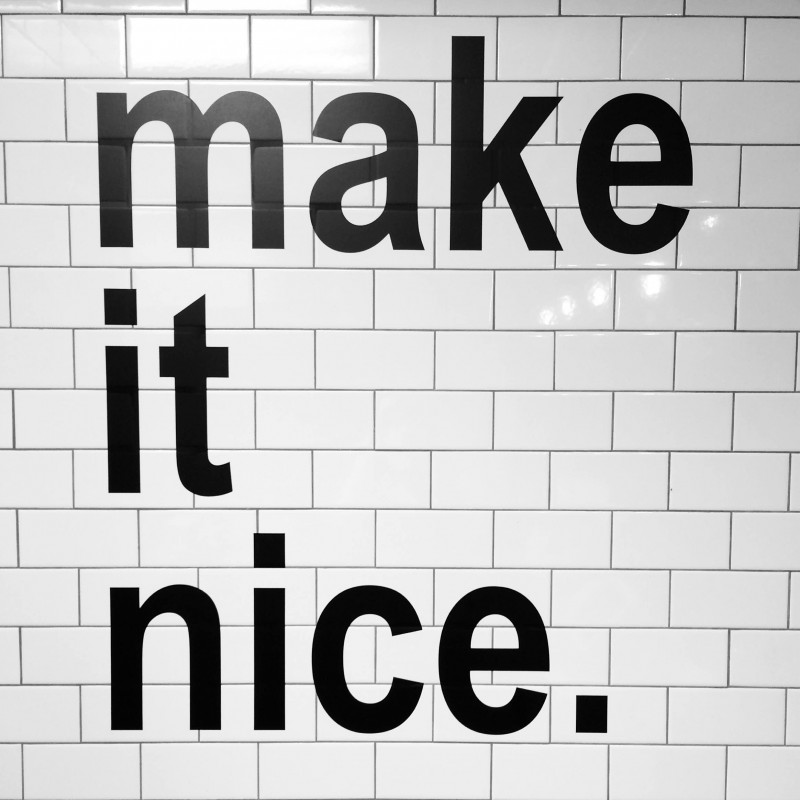 "I love when people sit at the counter," says Cunningham, who gets a thrill from seeing diners react to the dishes he takes such pride in creating.
"When you work in a traditional kitchen, you don't get to see their reaction," he says. "But when you get the direct interaction with the guest, and you see them enjoy something we just created with our hands, it's the best feeling in the world."
Exposed beams and metal accents create an industrial vibe in the tiny corner space. The colorful graffiti wall to the west reads 'yard bird' (an homage to the chicken – a favorite in Southern cuisine). And if you're paying attention, you'll notice the small graffiti 'tag' on an exposed pipe with the letters CS — for Chef Stephen.
All of the colors, textures and contrasting architectural elements combine to create the feel of being in an underground subway with what Cunningham describes as a "90s hip-hop vibe" (though decidedly much cleaner and brighter.) And the people who dine at the counter are perhaps just as varied as those you'd find riding the subway. In Cunningham's eyes, it's an "entertaining" community with the kind of energy that Cunningham thrives on.
"There's a diverse mix of people downtown," Cunningham says. "They're really approachable, and there are a lot of arts-minded people."
The varying personalities of their guests and the ever-changing menu keep Cunningham on his toes. Lucky for Cunningham, along with his love of cooking, his creativity in the kitchen and his passion for serving people, spontaneity comes as second nature.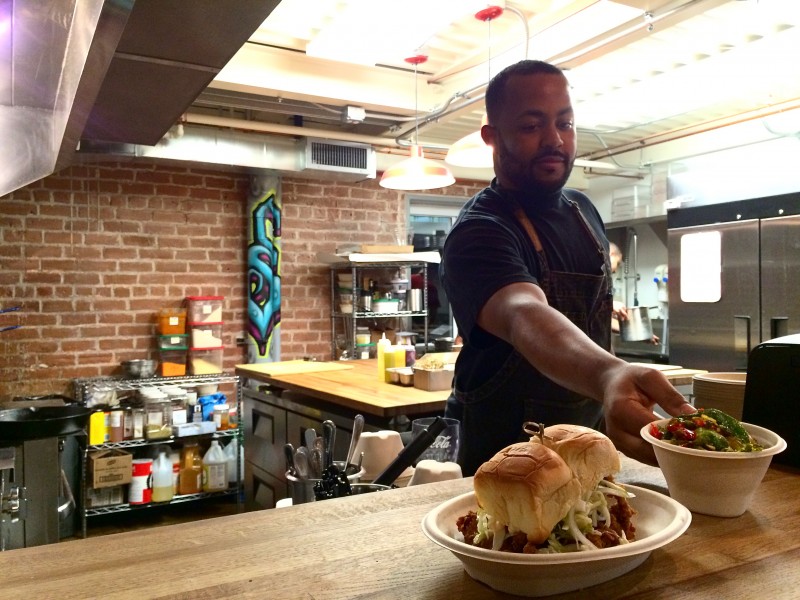 "You've got to be ready to adjust," Cunningham says. No doubt, working in an eatery where you're not only cooking the food, but you're also serving the customers, it helps to be spontaneous… and a little confidence never hurts.
"I think I'm a pretty charismatic guy, charming at times," he says.
Endearing charisma aside, Cunningham is clearly humble and hardworking. Put simply, he has a lot of heart. And with dreams of opening his own restaurant to serve college students with the "munchies," Cunningham has a bright future which is only just getting started.
"Having a work ethic and talent you can go anywhere," Cunningham says. "Sure, the money is a bonus, but we're cooks because we love it."
Experience Counter Culture
the larder + the delta
Inside DeSoto Central Market
915 N Central Ave
Phoenix, AZ 85004
Photos by Lauren Potter.
---